FRANKFORT, KY – Attorney General Daniel Cameron has announced that the Supreme Court of Kentucky unanimously upheld the conviction and sentence of Roger Burdette. On Christmas Eve in 2018, Burdette murdered Louisville Metro Police Detective Deidre Mengedoht by crashing a tanker truck into the detective's vehicle. Burdette was driving under the influence of controlled substances and streaming pornography at the time of the collision.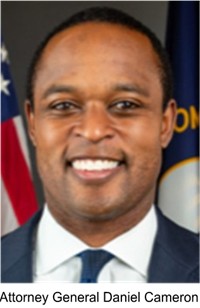 "Four years ago, Kentucky's law enforcement community and the entire city of Louisville suffered a terrible loss when Detective Mengedoht was fatally injured by an impaired driver," Attorney General Cameron said. "Our hearts go out to Detective Mengedoht's colleagues, family, and friends. While we know the Kentucky Supreme Court's ruling does not diminish the pain of this loss, we hope the victim's family is comforted by the court's decision to uphold Burdette's conviction. Ensuring justice is served by defending convictions and sentences is an important part of our work to support crime victims and their families, and we appreciate the ruling of Kentucky's highest court in this case."
In 2019, a Jefferson County Grand Jury indicted Burdette for murder and other crimes, and a jury later convicted Burdette on all counts. Burdette was sentenced to serve 27 years in prison.
"Burdette's conviction and sentence is a reflection of the diligent efforts of prosecutors Kristi Gray and Ryane Conroy, and the hard work of LMPD Detectives Dean Kisling and Omar Lee who investigated the tragic death of LMPD Detective Deidre "Dee Dee" Mengedoht, said Commonwealth's Attorney Thomas Wine. "We appreciate Attorney General Cameron's defense of this conviction and sentence. We certainly hope it brings some solace to Dee Dee Mengedoht's family and serves as a warning to impaired and distracted drivers."
Commonwealth's Attorney Thomas Wine of the 30th Judicial Circuit prosecuted the case in Jefferson Circuit Court. Burdette appealed several evidentiary rulings to the Kentucky Supreme Court. The Office of the Solicitor General, within Attorney General Daniel Cameron's office, defended the conviction and sentence."
On February 16, 2023, the Supreme Court of Kentucky agreed with arguments made by the Attorney General's office and upheld the convictions and sentence.
To view a copy of the Supreme Court of Kentucky's opinion, click here.
###
Photo of Detective Deidre Mengedoht from Louisville Metro Police Department