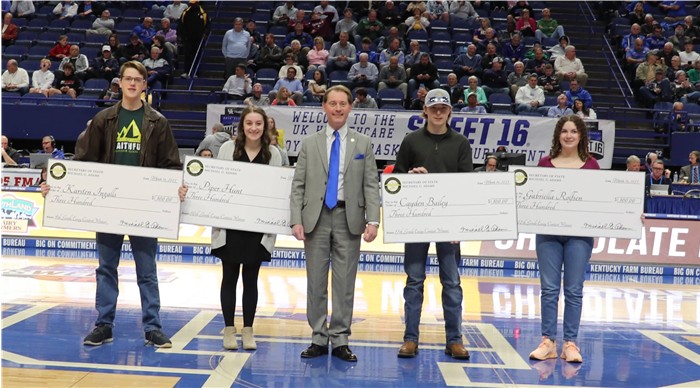 L to R: Karsten Ingalls, Piper Hunt, Secretary of State Michael Adams, Cayden Bailey and Gabriella Rolfsen
Essays Encourage Poll Worker Recruitment
LEXINGTON, KY – Secretary of State Michael Adams is pleased to announce the winners of his Office's 2022-2023 Essay Contest.
The contest was open to all high school students in Kentucky. The participants were asked to answer the question, "How can Kentucky recruit more poll workers?"
Secretary of State Adams presented the awards to the winners during halftime at the KHSAA Sweet 16 tournament.
The winners are:
9th grader Karsten Ingalls of Castle Hill Academy in Rineyville
10th grader Piper Hunt of Vine Grove
11th grader Cayden Bailey of Greenwood High School in Bowling Green
12th grader Gabriella Rolfsen of Saint Henry District High School in Hebron
NOTE: More pictures of the ceremony can be found at sos.ky.gov.