LONDON, KY - A Hyden man found slumped over in a vehicle on the side of Hal Rogers Parkway was arrested for operating a motor vehicle under the influence and other charges, Tuesday morning, February 28, 2023,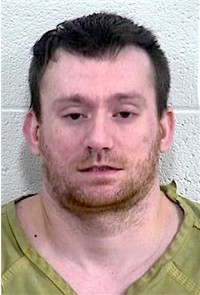 Derek Blake Adams, 30, of Owls Nest Road in Hyden, KY was arrested by London Police Sergeant Troy Truett at 9:05 A.M.. He was assisted by Officer Dillion Blair and Officer Hobie Daugherty.
According to Sgt. Truett's report, officers were dispatched to a call about a male slumped over inside a running vehicle near the KY 192 intersection.
They had trouble waking the driver and found him manifestly under the influence of an intoxicant. He had slurred speech and had vomited on himself.
After searching the vehicle, officers found several Fireball whiskey "buckets" and 40 empty airplane-sized bottles of Fireball.
Adams failed several field sobriety tests and was charged with:
DUI
Failure to produce an insurance card
Failure to wear a seat belt
This individual was lodged in the Laurel County Correctional Center.
Photo is courtesy of the Laurel County Correctional Center.