PRINCETON, KY – The Kentucky State Police is reporting that on Sunday, March 26, 2023, the Caldwell County Sheriff's Department requested KSP Post 2, Nortonville to conduct a death investigation at 2848 Dripping Springs Road, Princeton, KY.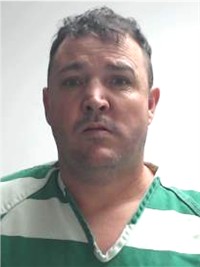 The initial call came in that Eric Wright, 43, of Princeton, KY called 911 to report an unresponsive female.
Units responded and confirmed the death of Rachel Tucker, 27, of Princeton, KY.
The preliminary investigation indicated that foul play was suspected.
Eric L. Wright was interviewed and subsequently arrested and transported to the Caldwell County Jail.
Eric Wright was charged with:
Murder – domestic violence
This individual was lodged in the Caldwell County Jail and is being held on a $1,000,000 CASH bond at the time of this report.
Photo of the accused is courtesy of the Caldwell County Jail.
The investigation continues by Detective Brian Graves.
###