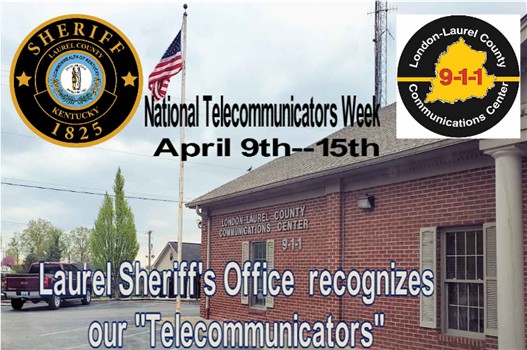 LONDON, KY — Laurel County Sheriff John Root, Deputies, and Staff would like to recognize London/Laurel County's E-911 Telecommunicators staff during National Public Safety Telecommunicators Week April 9—15th, 2023, and everyday. Every year our Telecommunicators answer thousands of 911 calls for service.
Our hardworking dispatchers and public safety telecommunicators serve as a vital link between the citizens of Laurel County and the following agencies:
Laurel County Sheriff's Office
London City Police Department
London City Fire Department
London/Laurel County Rescue Squad
11 Volunteer Fire Departments
Bald Rock
Bush
Campground
Crossroads
East Bernstadt
Keavy
Laurel County
Lily
McWhorter
Swiss Colony
West Knox
They also work in conjunction with:
The Commonwealth Attorney's Office
The County Attorney's Office
Circuit Court
District Court
County Jail
The County Court Clerk's Office
6 County Constables
Laurel County Housing Authority
The Probation and Parole Office
Laurel River Lake U. S. Army Corps of Engineers
Acting as a critical lifeline to first responders, these unsung everyday heroes are always there to answer the call.
The Laurel County Sheriff's Office would like to personally recognize each of the following staff of the Laurel E-911 Dispatch Center.
The Thin Gold Line:
London-Laurel County 9-1-1 Communications Center Roster
Jerry Hollon – Director
Larry Walls – Assistant Director
Justin Sizemore – Senior Supervisor
Eric Smith – Supervisor
Tyler Pearce – Supervisor
Josh Parsons – Supervisor
Terry Bunch – Dispatcher
Paul Collins – Dispatcher
Summer Croley – Dispatcher
Rachel Durham – Dispatcher
Jaxon Allen – Dispatcher
Sarah Smith – Dispatcher
Samantha Reynolds – Dispatcher
Heather Summerall – Dispatcher
Andrea Brock – Part Time Dispatcher
Jamie Sloan – Part Time Dispatcher
Chanel Reams- Part Time Dispatcher
Drew Allen – Part Time Dispatcher
Terry Wattenbarger – Part Time Dispatcher
Scarlet Ledington – Administrative Assistant
###
Sheriff's Office 2022 Annual Activity Report for Laurel County, Kentucky