FRANKFORT, KY– On Thursday, March 30, 2023, ahead of National Child Abuse Prevention Month, Attorney General Daniel Cameron announced the Child Victim's Trust Fund (CVTF) awarded nearly $220,000 in grant funding to Kentucky child sexual abuse prevention organizations. The grants fund child sexual abuse prevention programs and assist survivors of abuse.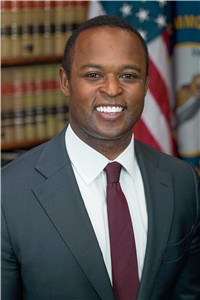 "Every Kentucky child deserves a safe childhood, and my office is working diligently alongside our non-profit partners to do everything we possibly can to combat child abuse in the Commonwealth," said Attorney General Cameron. "This April, during National Child Abuse Prevention Month, I'm urging every Kentucky adult to take a few moments to learn about how you can be a part of putting an end to child abuse and neglect."
Kentucky's 15 Children's Advocacy Centers will be reimbursed for up to $85,500 to offset costs associated with administering more than 855 child sexual abuse medical exams. In addition to assisting with medical exam costs, CVTF awarded over $133,000 in regional and statewide child abuse prevention grants.
Child Watch Counseling and Advocacy Center Inc. of Paducah received a regional grant totaling $26,493 to present "The Totally Awesome Super Important You" program to over 10,000 pre-school and elementary students in 13 Western Kentucky Counties. The program offers age-appropriate education on abuse prevention.
Headquartered in Florence, Family Nurturing Center received a regional grant amounting to $10,000 to implement Monique Burr Foundation Curriculum to middle school students. The child abuse prevention curriculum teaches students and adults how to prevent, recognize, and respond to suspected abuse.
Exploited Children's Help Organization (ECHO) of Louisville was awarded a regional grant of $34,500 to provide child abuse prevention and education using the Monique Burr Foundation Curriculum for public and private school students.
Kentucky Kids on the Block of Bowling Green was awarded a statewide grant of $37,079.98 to offer child abuse prevention, fire safety, and cyberbullying programming across the state.
Headquartered in Lexington, Prevent Child Abuse Kentucky received a statewide grant totaling $25,739 to enhance a campaign previously funded by CVTF called "Are They Good for Your Kids?" The funding will enable Prevent Child Abuse Kentucky to create a train the trainer program that provides professionals with peer-to-peer training to stop child abuse before it starts.
The Attorney General's Child Abuse and Neglect Prevention Board (CANP) oversees CVTF, a non-profit that provides funding for child sexual abuse prevention programs and reimbursements for child sexual abuse medical exam expenses that are not covered by Medicaid or private insurance.
Kentuckians wishing to join the fight to end child abuse can donate to the CVTF by making a private donation, by purchasing an "I Care About Kids' license plate, or by donating a portion of your state income tax refund.
According to the U.S. Department of Health and Human Services latest Child Maltreatment Report, Kentucky ranks sixth in the country for child maltreatment. This report estimates that 14,963 children in Kentucky experienced abuse and neglect in 2021, and most of these children were under the age of four.
In addition to the grants awarded by CVTF, Attorney General Cameron has worked diligently to combat child abuse in the Commonwealth by creating a Child Abuse Prosecution Toolkit to equip law enforcement with the resources they need to effectively investigate and prosecute these complex and tragic crimes.
This April, during Child Abuse Prevention Month, Attorney General Cameron's Office of Trafficking and Abuse Prevention and Prosecution will make presentations across the state to help Kentuckians recognize and report child abuse, beginning with STAND Against Child Abuse at Wesleyan College in Owensboro on April 14.
To report suspected child abuse, contact local law enforcement or the Child Protection Hotline by calling 1-877-KYSAFE1 (1-877-597-2331).
###