MANCHESTER, KY (April 16, 2023) - The City Of Manchester Fire Department is reporting that at approximately 12:44 PM on Sunday afternoon April 16, 2023, the City of Manchester Fire Department was notified by Clay County E-911 in reference to a commercial motor vehicle accident.
The accident occurred at the junction of U.S. 421 and KY 80 in Manchester when a specialized tractor trailer moving an oversized section of an off-road dump vehicle struck the pole holding up the traffic signal lights at the intersection while attempting to turn from KY 80 onto South U.S. 421.
When the wide load struck the poll supporting the traffic signals, the impact caused the poll to fall with the lights landing on an SUV sitting at the intersection.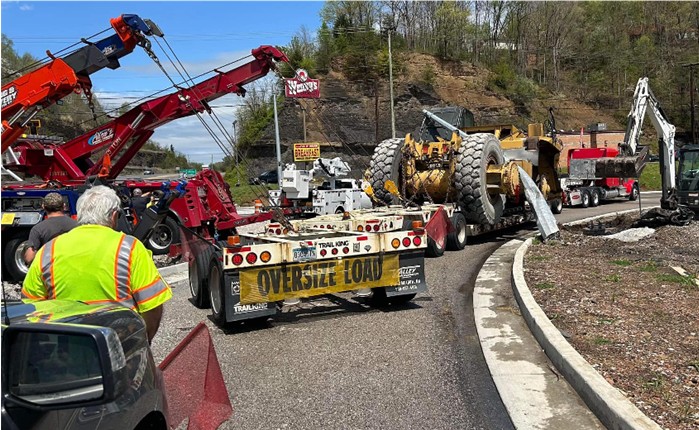 Upon arrival to the scene, personnel located a significant diesel spill due to the light pole puncturing the diesel tank on the vehicle being transported.
Eco-Tech of London was notified to come and take charge of cleaning up the large diesel spill.
The Kentucky Transportation Cabinet arrived on scene for traffic control while responding personnel stood by at the scene until the roadway was cleared of the oversized load and the Kentucky State Highway Department could began repairing the downed traffic signals.
Assisting on scene:
Clay County Sheriff's Office
Manchester Police Department
Allen's Towing & Recovery
Eco-Tech of London
Kentucky Transportation Cabinet
Fogertown Fire Department
SOURCE: The City Of Manchester Fire Department.
Photos are from The City Of Manchester Fire Department.
**No injuries were reported and no additional information was made available on the City Of Manchester Fire Department's Facebook page.