PINEVILLE, KY - Bell County Sheriff's Department is reporting that on Thursday, April 13, 2023, Bell County Deputy Jody Risner arrested a Pineville woman for arson and served her with other charges.
Deputy Risner states from March 4, 2023 to March 5, 2023, 69 year-old Rosemary Mosley started a fire with the intent to destroy or damage the home of Terri and Ronnie Blevins.
At 12:29 A.M. on Sunday, March 5, 2023, The Bell County Volunteer Fire Department responded to the fire located in Jenson Hollow just off Highway 221. The fire was contained to one room of the home by the fire department.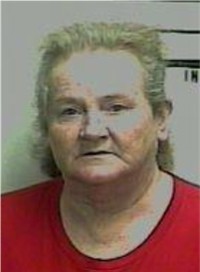 During the investigation Mosley was alleged to have been seen on camera setting the home on fire.
Deputy Risner also served warrants on Rosemary Mosley for separate incidents in which she incurred charges in April, August and September of 2021.
In April 2021 a woman stated that Mosley threatened her which garnered her a 3rd degree terroristic threatening charge.
In August 2021 a man from the same family stated to responding officers that Mosley threatened she would "burn his home", which caused her to be charged with another 3rd degree terroristic threatening offense.
In September 2021, Rosemary and her husband were traveling on Highway 221 at approximately 20 mph when another woman from the same family attempted to pass them in a designated passing zone. It was then that the Mosley's vehicle swerved not letting her pass and attempted to run the woman off the roadway.
As the woman turned to go to her grandmother's home in Jenson, the Mosely's vehicle blocked the bridge causing her reasonable apprehension of imminent physical injury.
Rosemary Mosley was determined to be the driver of the vehicle.
On Thursday, April 13, 2023, Bell County Deputy Jody Risner arrested Mosely and transported her to the Bell County Detention Center.
Rosemary Mosely was charged with:
Arson – 1st degree and served the warrants for menacing and two counts of 3rd degree terroristic threatening
This individual was lodged in the Bell County Detention Center. Her bond was set at $100,000 CASH.
Photo is courtesy of the Bell County Detention Center.
NOTE: According to jail records, Rosemary Mosely was released on Tuesday, April 18, 2023.