LONDON, KY - The London Police Department is reporting that a Manchester man was arrested for operating a motor vehicle under the influence and possession of a controlled substance following a traffic stop on O Barnett Drive.
Beve Bowling, 44, of Fish Trap Road, Manchester, KY was arrested at 11:25 A.M. on Thursday, April 20 by London Police Officer Coty Arnold, with assistance by Sgt. Troy Truett.
According to Officer Arnold's report, he was conducting extra traffic patrol on Reams Lane when he noticed a vehicle commit a traffic violation. Upon contact, he could smell the odor of Marijuana coming from the vehicle and noticed the driver had red glossy eyes.
A search of the vehicle produced a small plastic baggie containing suspected Methamphetamine inside the driver's door.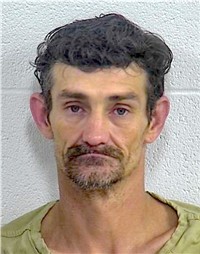 Beve Bowling failed several field sobriety tests and was arrested for:
DUI
Possession of a controlled substance
Possession of drug paraphernalia
License to be in possession
Improper signal
Back at the police station, Officer Arnold also found another baggie containing a white crystal substance in Mr. Bowling's sock.
This individual was lodged in the Laurel County Correctional Center.
Photo is courtesy of the Laurel County Correctional Center.