LEITCHFIELD, KY – Jacob Clark, a Constitutional candidate, has announced that he will be running for Governor in the upcoming Republican primary election on May 16. Jacob Clark stands out as the only candidate with a bold and comprehensive plan to make Kentucky the freest state in the union, within the first week!
Jacob Clark, is committed to upholding the principles of the Constitution and ensuring that the government serves the people. He is a passionate advocate for individual rights, limited government, and fiscal responsibility. He is an inventor, and is very dedicated to election integrity that he has devised a system which will give voters a tracking number for their ballot you can see how this works here: VerifytheVotes.
In a statement, Jacob Clark said: "Our state needs a Governor who will put the interests of the people first and uphold the Constitution. I am committed to ensuring that our government is accountable, transparent, and responsive to the needs of the citizens. As a Constitutional candidate, I will work tirelessly to protect individual rights and promote a limited government that is focused on serving the people."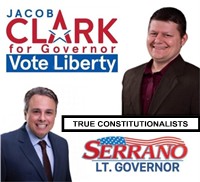 "I have picked for my Lt. Governor, Gerardo Serrano a Congressional candidate in the 5th district, between the two of us we bring a wealth of experience with intrusive unconstitutional government."
Jacob Clark, brings a wealth of experience with intrusive government that violated his Constitutional Rights, and he won, reinforcing 4th Amendment rights for parents. They both have a proven track record of fighting in court, and no one else running comes close.
As a Constitutional candidate, Jacob Clark is committed to running a clean and principled campaign. His campaign will not accept contributions from special interest groups.
Jacob Clark's unwavering dedication to the principles of individual liberty and limited government make him the ideal candidate to lead Kentucky towards becoming the freest state in the union.
Jacob Clark's candidacy offers Kentuckians a unique opportunity to elect a leader who is committed to promoting individual freedom, rolling back unnecessary regulations, and limiting the size and scope of government. Which in turn will lower your property taxes.
For more information on Jacob Clark and their campaign, please visit ClarkforKy or contact Jacob Clark or Gerardo Serrano @ .