'Denny was a great coach, a great friend, and more than anything, a great man.'
WASHINGTON, D.C. – U.S. Senate Republican Leader Mitch McConnell (R-KY) delivered the following remarks Wednesday on the Senate floor honoring Hall of Fame University of Louisville Men's Basketball Coach, Denny Crum:
"Yesterday, the University of Louisville's legendary Men's Basketball coach, Denny Crum, passed away at his home.
"For thirty years, Coach Crum helmed my alma mater's basketball squad and led the Cardinals to unprecedented success. Denny revolutionized the program and transformed the team into a spectacle all Kentuckians were eager to tune in to. He was a true legend.
"Unique among coaches at the time, Denny sought to play the toughest teams in the country early in the season, knowing that those hard-fought match-ups would prepare the Cards better than anything else for post-season success. That bold playbook earned the Coach nicknames like 'Cool Hand Luke' and – for always keeping his eye on the Big Dance – 'Mr. March.'
"Thanks largely to his smart strategizing, Coach Crum led the Cardinals to two National Championships and six NCAA Final Four appearances, earning Denny induction into the College Basketball Hall of Fame. He brought national recognition to our school and city, and forged a deep connection with the UofL community through his calm leadership on and off the court.
"Even after retiring, Coach Crum continued to serve as an ambassador for the university, raising money to support scholarships, athletics, and academics. Denny was a great coach, a great friend, and more than anything, a great man.
"Elaine and I send our deepest condolences to Denny's wife, Susan, and his family, friends, and fans as they mourn Denny's loss."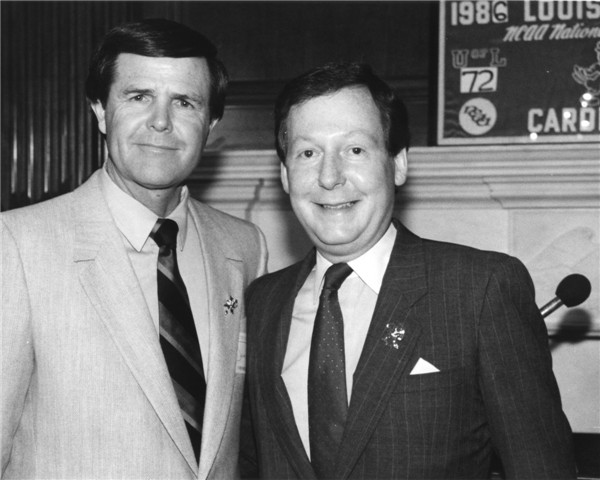 UofL Coach Denny Crum and U.S. Senator Mitch McConnell in 1986