LONDON, KY (May 20, 2023) - Laurel County Sheriff John Root is reporting that: Laurel Sheriff's Deputy Wes Brown arrested Clyde Branson Tigue age 24 of Corbin on Friday evening May 19, 2023 at approximately 5:47 PM.
The arrest occurred off Curry Lane near the Laurel Whitley County line after Deputy Brown was dispatched to investigate an apparent robbery which occurred at a business off West Cumberland Gap Parkway in southern Laurel County.
Deputies learned that allegedly a female subject had been robbed of cash and that the suspect attempted to flee in his black colored Chevrolet Malibu.
An employee there apparently flattened one of the tires on the suspect's vehicle, however the suspect still fled traveling along KY 770 toward Whitley County and pulled off on Curry Lane in an attempt to change the flat tire.
Deputies were able to catch up to the suspect there taking him into custody and recovering the money he had stolen.
Clyde Tigue was charged with:
This individual was lodged in the Laurel County Correctional Center.
Photo of accused attached is courtesy of Laurel County Correctional Center.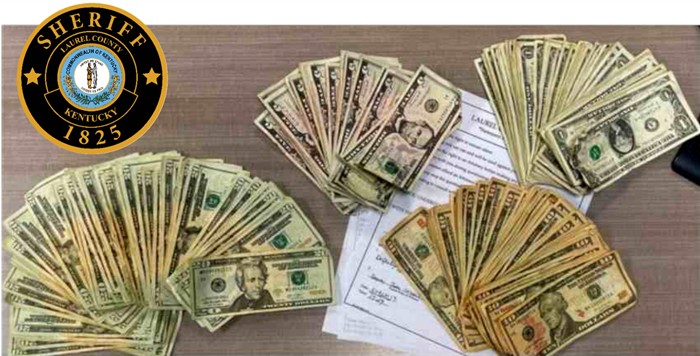 Recovered cash from alleged robbery
Photo of recovered cash is from the Laurel County Sheriff's Office.
Assisting also for the Sheriff's office was: Laurel Sheriff's Deputy Cyruss McVey and Deputy Marcus Stigall.