FLORENCE, OR - On June 15, 2023, at 11:43 A.M., an act of criminal mischief was reported at the Heceta Head Lighthouse and associated property, located at Highway 101 near milepost 178 in Florence, Oregon. The incident occurred on June 14, 2023, at 8:43 P.M. hours, as captured on surveillance video.
The footage revealed the presence of four individuals approaching the lighthouse and its buildings. Among them, one subject was seen carrying a can of spray paint. Two of the individuals were observed breaking a window on the lighthouse building and attempting entry. Their activities were interrupted by an unassociated person who approached the scene, prompting all four subjects to flee.
As a result of this incident, one of the associated lighthouse buildings was vandalized with spray paint, and signage along the trail from the parking lot to the lighthouse was also affected.
The Oregon State Police is actively investigating the case. However, we need additional information or evidence that could lead to the identification of the pictured suspects involved.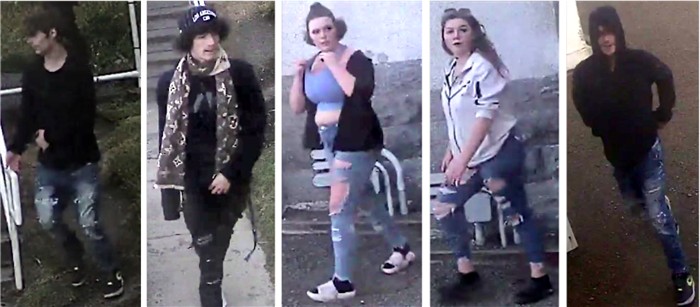 OSP SEEKING PUBLIC ASSISTANCE IDENTIFYING THESE SUSPECTS
Anyone with information relating to this incident is urged to contact the Oregon State Police Dispatch Center at *OSP (*677) from a mobile phone or 800-442-0776. Reference case # SP23-178524. We appreciate the cooperation and support of the community in assisting us with this ongoing investigation.
The Oregon State Police is working closely with Oregon State Parks to preserve and protect this historical landmark, the Heceta Head Lighthouse located at milepost 178 on Highway 101 in Florence. Oregon State Parks Ranger, Burke Martin, estimates the cost to repair the damage to be between $10,000 to $20,000. We will continue working diligently to ensure the safety and integrity of this iconic site.