LONDON, KY - Laurel County Sheriff John Root is reporting that: Laurel Sheriff's Deputy Josh Velasco along with Deputy Zach Allen and K-9/shift Sgt. Gary Mehler arrested John Gavin age 26 of London on Tuesday afternoon June 27, 2023 approximately 4:15 PM.
The arrest occurred off Old Crab Orchard Road, approximately 3 miles north of London after deputies were dispatched to a fight in progress complaint there.
Upon arrival deputies made contact with two individuals there noting that one male subject was on the ground with an obvious injury to his head.
Another male subject there was screaming, yelling, cursing and creating a disturbance in a threatening manner.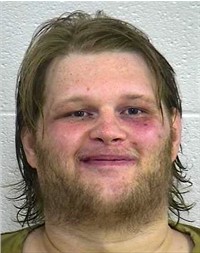 One individual was taken into custody but would not give his name at the time of arrest, however, it was later determined to be John Gavin.
John Gavin charged with:
Disorderly conduct – second-degree
Menacing
This individual was lodged in the Laurel County Correctional Center.
Photo of accused attached is courtesy of the Laurel County Correctional Center.