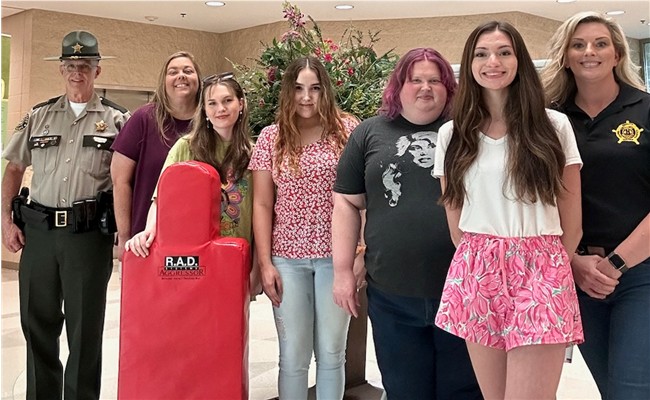 LONDON, KY - Laurel County Sheriff John Root is pleased to announce another group of graduates from the Women's Self Defense Program instructed by Special Deputy Elizabeth Sparks with assistance from Maggie Gregory.
This program was hosted by Somerset Community College Laurel Campus to compliment a traveling exhibition that comes from the National Library of Medicine and is now on display at the campus. The display is titled: Confronting Violence, Improving Women's Lives and can be viewed in building #3 of the Laurel Campus Monday-Friday from 8:00 a.m.-4:30 p.m. until July 15th, 2023.
Participants of the class engaged in physical training, situational awareness, and personal safety precautions.
More Women's Self Defense classes are being scheduled at this time and information for registering for the classes will be posted on our Facebook page. For more information on the programs we offer, email .
Pictured is Laurel Sheriff's Special Deputy Elizabeth Sparks, with Maggie Gregory, and Public Affairs Deputy Gilbert Acciardo along with graduates on Wednesday, June 28th.