TOMPKINSVILLE, KY – On Sunday afternoon July 2, 2023, at approximately 1:00 P.M. CST, Kentucky State Police (KSP) Post 15 received a call from the Monroe County 911 Center. The Monroe County Sheriff's Department was requesting investigative assistance regarding a shooting on Proffit Road in Monroe County.
The preliminary investigation revealed that Jose Luis Robles, age 22 of Tompkinsville, was involved in a verbal altercation with Austin King, age 27 of Tompkinsville, and Cory Flippin, age 23 of Tompkinsville.
The verbal altercation between the individuals escalated and lead to a firearm being discharged by Mr. Robles. Both Mr. King and Mr. Flippin received gunshot wounds during the altercation.
Cory Flippin was transported from the scene to the hospital however, he succumbed to his injuries. Austin King was also transported to the hospital with life-threatening injuries.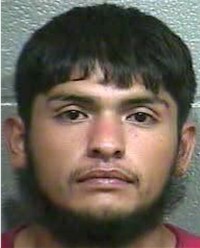 Jose Robles was subsequently arrested and charged with:
Murder
Assault 1st Degree
This individual was lodged in the Barren County Detention Center.
Photo of the accused is courtesy of the Barren County Detention Center.
Detective Zach Scott continues the investigation of this case.
Det. Scott was assisted at the scene by other KSP Troopers and Detectives as well as the Monroe County Sheriff's Office, Tompkinsville Police Department, and Monroe County Coroner's Office.
###