LONDON, KY - The London Police Department is reporting that: A man who could barely keep his eyes open while driving under the influence was taken off the highway by London Police.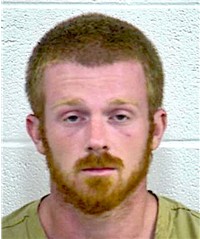 Terry D. Lynch, 28, of Standau Road, London, was arrested at 5:00 p.m. Sunday, July 2, 2023 on KY 192 by London Police Cpl. Ben Webb.
According to Cpl. Webb's report, officers observed a vehicle traveling on KY 192 with canceled tags for failure to maintain insurance.
Upon contact, Lynch stated he did not have his license on him because it was suspended.
The vehicle's window was cracked and the registration did not match the information given by Lynch.
Cpl. Webb noted that Lynch had severely slurred speech and was having a hard time keeping his eyes open. He failed several field sobriety tests
Terry Lynch was arrested for:
Operating a motor vehicle under a controlled substance
Operating on a suspended or revoked operators license
No operators license and other traffic charges
This individual was lodged in the Laurel County Correctional Center.
Photo is courtesy of the Laurel County Correctional Center.