LONDON, KY - Laurel County Sheriff John Root is reporting that: Laurel Sheriff's shift Sgt. Brett Reeves arrested Jason Blevins age 38 of Arkle Rd., Gray, KY on Wednesday morning July 5, 2023 at approximately 9:09 AM.
The arrest occurred off West Cumberland Gap Pkwy. in a business parking lot approximately 11 miles South of London after Sgt. Reeves was dispatched to a complaint of a male subject apparently passed out behind some bushes near a business there.
Upon arrival at the scene Sgt. Reeves located the suspect and upon awakening him determined that he was under the influence.
This individual stated he had used unknown drugs earlier. This subject stated he had been in prison for assault, and that he would assault Sgt. Reeves.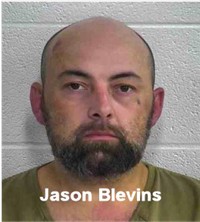 Upon arrest this individual kicked Sgt. Reeves and continued to fight Sgt. Reeves before being taken into custody.
Jason Blevins was charged with:
Public intoxication – controlled substances
Resisting arrest
Disorderly conduct – second-degree
Assault – third-degree – police officer is victim
Menacing
This individual was lodged in the Laurel County Correctional Center.
Photo of accused attached is courtesy of the Laurel County Correctional Center.
Other Deputies and London City Police responded to the scene to assist Sgt. Reeves.