FRANKFORT, KY – The Kentucky State Police (KSP) held its annual civilian awards ceremony to honor agency employees for their dedication to creating safer communities and exemplary public service.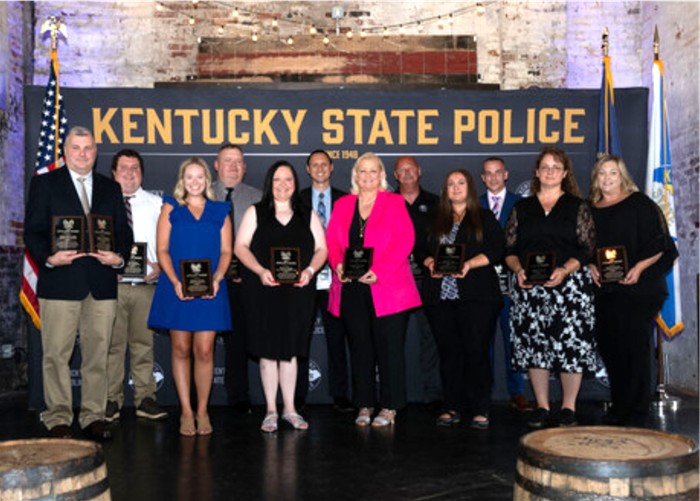 Pictured Left to Right: Adam Columbia, Mike Hoskins,, Alexus Larson, Donald Williamson, Karen Boggs, Michael Webb, Jo Anne Hobgood, Ricky Simpson, Whitney Jett, Andrew French, Melody Brown, and Jessica Newcom. Not Pictured: Billianne Withers, Joan Allen, and Tina Adams.
Awards presented include the 2022 Civilian of the Year, Career Achievement, Police Communications Support, Supervisor of the Year and others.
"Each and every one of you plays an important role in keeping the state police running," said Gov. Andy Beshear. "Because of you, our communities are safer, and Kentucky continues to be a national leader in public safety."
Civilian employees serve in a variety of roles at KSP from dispatch, maintenance, drivers testing, information technology, public relations and records support. All of these roles allow KSP troopers and officers to effectively do their jobs to protect Kentuckians and stay safe while on the job. KSP Commissioner Phillip Burnett, Jr. spoke directly to the award winners about their important role within the agency.
"While you may not wear uniforms, you are just as essential and hard-working as those who do," said Commissioner Burnett. "You are critical to our agency's success and it's important that we come together to recognize the great work each of you do."
During the ceremony, Commissioner Burnett presented the 2022 'Civilian of the Year' Award and 'Supervisor of the Year' Award to Franklin County resident Adam Columbia. Columbia, a 17-year veteran of the agency, who serves the commonwealth as the KSP Information Systems Manager with the Information Technology Branch in Frankfort.
"I am very honored to win this award and to be recognized among so many great civilian employees within the Kentucky State Police," said Columbia. "I want to thank my co-workers within the Information Technology Branch, Commissioner Burnett, the command staff, and all the other civilians and sworn personnel who make it an absolute pleasure to come to work every day."
The 2022 KSP civilian employee awards include:
Police Communications Support Award
Karen Boggs, Telecommunicator III, Post 13 Hazard
Jessica Newcom, Police Telecommunicator III, Post 2 Madisonville
Whitney Jett, Telecommunicator I, Post 6 Dry Ridge
Post Operations Support Award
Melody Brown, Victims Advocate II, Post 2 Madisonville
Donald Williamson, Commercial Vehicle Enforcement Inspector, Commercial Vehicle Enforcement East Region
Supply/Properties Management Award
Ricky Simpson, Maintenance Worker II, Properties Management Branch
Drivers Testing Award
Jo Anne Hobgood, Driver's Test Administrator, Drivers Testing Branch
Forensic Services Support
Michael Webb, Polygraph Examiner II, Polygraph Section
Information Technology Award
Mike Hoskins, Information Systems Supervisor, Computer Technology Branch
Records Technical Support Award
Tina Adams, Administrative Specialist I, Criminal ID and Records Branch
Commercial Vehicle Support Award
Andrew French, Commercial Vehicle Enforcement Inspector, Commercial Vehicle Enforcement Central Region
Special Enforcement Support Award
Billianne Withers, Auditor Special Investigations II, East Drug Enforcement and Special Investigations Unit
Administrative Services Award
Alexus Larson, Information Officer III, Public Affairs Branch
Supervisor of the Year Award
Adam Columbia, Information Systems Manager, Computer Technology Branch
Career Service Achievement Award
Joan Allen, Administrative Specialist I, Criminal ID and Records Branch
KSP is currently seeking Kentuckians with an ambition to serve to commonwealth to join Team Kentucky. More information on job specifics and applications can be found here.
The Beshear-Coleman administration's top priority is the safety of all Kentuckians. The Governor's public safety actions are creating safer communities and a better Kentucky now and into the future.
Recently, Gov. Beshear raised the annual salaries for telecommunicators by more than $8,000 and gave KSP telecommunicators the ability to receive an annual $3,100 training stipend. KSP telecommunicators now receive a starting salary of more than $41,000 annually.
In April 2022, the Governor signed legislation he championed the previous year that funds a $15,000 raise for all troopers and a starting pay increase for sworn officers from $37,887 to $55,888 annually. In signing Senate Bill 209, Gov. Beshear established paid vacation, sick leave and holiday pay, as well as enhanced health insurance contribution payments for retired KSP troopers and commercial vehicle enforcement officers.
Also, as the Governor recommended in January 2022, $12.2 million was included in the state budget for KSP to purchase body cameras, which is the first time in the commonwealth's history that funding has been allocated for this much-needed expense. Earlier this year, KSP demonstrated the new recording system, which will be distributed to approximately 780 sworn personnel.
# # #