Each year on August 7, our nation recognizes the men and women who are known as our Purple Heart recipients. The Purple Heart, one of the oldest military decorations, is presented to service members who were injured or killed in service to our country.
Why is that important? There are an estimated 1.8 million Purple Heart recipients. Some of those who were wounded are living, working and volunteering in our communities today. Families of those lost remember their loved ones every day.
Retired Army Sgt. First Class John Reyes is one of those recipients. He sustained wounds in Fallujah, Iraq, on Nov. 9, 2004, just 30 days into an 11-month deployment, when a mortar landed just meters away from him on a mission to secure an intersection.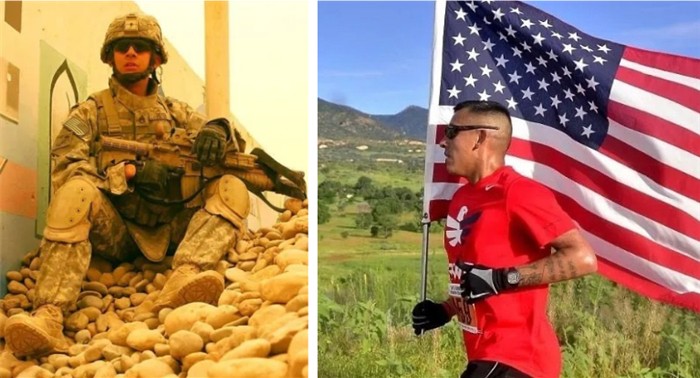 Retired Army Sgt. First Class John Reyes
Despite his injuries, Reyes assisted other injured soldiers and after applying a tourniquet to his own leg, manned a machine gun on his way back to base for aid. He also received the Army Commendation Medal with Valor.
Today, Reyes serves as Team RWB's Colorado state coordinator after being involved in the organization since 2014 as a volunteer.
At Team Red, White & Blue (Team RWB), a nonprofit organization forging America's leading health and wellness community for Veterans, we believe it's our duty to remember and honor the sacrifices of those who came before us, and those we served with. We also believe that we all have a role to play in ensuring those stories of bravery are not lost with time.
That's why our members, or as we call them—Eagles—will break a sweat with a Purple Heart Workout in groups both big and small August 5-13. Across the country, they'll complete a 60-minute combo of 0.5-mile runs and burpees in teams (workout adjustments are welcome to include walking, modified burpees, or alternate exercise).
Reyes himself is organizing and will lead the workout at Team RWB's Purple Heart Workout Flagship event in Colorado Springs. Why? To set an example and show others they are not alone.
"The Purple Heart can give those who have been wounded that feeling that they are not forgotten. It can give them reassurance that having an injury does not mean you're different than others," Reyes said.
Whether it's a workout, volunteering with a local Purple Heart organization nearby, or pausing for a moment of silence, be sure to take some time on Aug. 7 to remember and honor our nation's 1.8 million purple heart recipients.
Learn more or join Team RWB for the Purple Heart Workout by clicking here.
Read more about the VA benefits and services for Purple Heart recipients.