LONDON, KY - London Police literally had to go over a cliff to arrest an intoxicated driver who had fled a traffic stop at over 110 miles per hour and tried to hit officers with his Tahoe.
Aaron M. Heuser, 43, of Bakers Lane, London, was arrested at 8:11 P.M. on August 13 in the Cromer Ridge area of northern Laurel County by LPD K-9 Ofc. Ryan Jackson, assisted by Cpl. Ben Webb and Ofc. Hobie Daugherty.
According to Ofc. Jackson's report, he observed a brown Tahoe cut across traffic on North U.S. 25, almost hitting another vehicle. The back window of the Tahoe was also missing.
Ofc. Jackson caught up with the vehicle and attempted a traffic stop, but the driver sped up and took off down Slate Lick Road and Old Richmond Road.
When the driver turned back onto U.S. 25, he was speeding at 110 miles per hour and swerving into oncoming traffic and kept hitting his brakes trying to get police officers to rear end his vehicle.
The Tahoe crossed the interstate at the KY 909 exit and continued into the Cromer Ridge area, where it struck an embankment and at which point Ofc. Jackson attempted to arrest Heuser, but he put the vehicle in reverse and hit the gas, striking Ofc. Jackson's police cruiser.
Cpl. Webb, who was also on scene, had to dive into a ditch to keep from getting hit by the Tahoe just before Heuser came to the end of the road and fled the vehicle on foot.
LPD officers finally nabbed Heuser after going over a 30-foot rock wall. The officers had to request help from the London Laurel County Rescue Squad to repel down and assist them in getting Heuser back up the hill, which took about two hours.
Aaron Heuser appeared manifestly under the influence, Ofc. Jackson wrote.

LPD requested help from London - Laurel Rescue Squad for assistance in getting arrested suspect back up cliff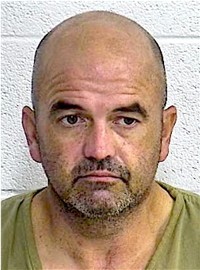 After being read his rights, Heuser said he'd thrown a bag of Marijuana off an adjacent cliff.
Officers found a baggie containing a green leafy substance stuck in tree limbs hanging over the cliff and were able to retrieve it.
Aaron M. Heuser was arrested on nine charges, including:
DUI
Wanton endangerment first degree
Fleeing or evading police
Reckless driving
Speeding and other traffic charges
This individual is lodged in the Laurel County Correctional Center.
Mugshot is courtesy of the Laurel County Correctional Center.
SOURCE and other photos are from London Police Department, KY