LONDON, KY - Laurel County Sheriff John Root is reporting that: Laurel Sheriff's Deputy Noah Ritchie along with London City Police and Kentucky State Police responded to a disturbance complaint off West Cumberland Gap Parkway on Monday morning August 21, 2023 at approximately 10:22 AM.
Law-enforcement were advised that a female subject was in a business going through store items throwing items off shelves and kicking doors inside the store creating a disturbance.
As officers patrol vehicles entered the parking lot the female suspect fled the scene on foot.
Officers learned that apparently this individual had went to other stores in the vicinity and had fled the scene.
Approximately one hour later law-enforcement was notified that the female suspect had entered an apartment area off KY 1223 banging on doors yelling and creating a disturbance causing residents to exit their apartments.
The suspect was located in an apartment and taken into custody.
It was learned through investigation that the female suspect had forced her way into an apartment of an elderly female who lived there. It was determined that the female suspect entered the apartment without permission forcing her way through the door.
It was also determined that this individual was under the influence.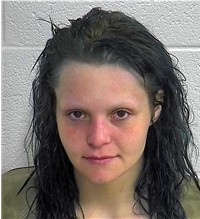 Arrested was Hunter Smith age 24 of Urban Creek Road, Manchester, KY.
Hunter Smith was charged with;
Burglary – second-degree
Public intoxication – controlled substances
Disorderly conduct – second-degree
This individual was lodged in the Laurel County Correctional Center.
Photo of accused attached is courtesy of the Laurel County Correctional center.