LONDON, KY - Laurel County Sheriff John Root is reporting that: Laurel Sheriff's Deputy Zach Allen arrested a Stinnett, KY woman on Saturday night September 9, 2023 at approximately 7:50 PM.
Jacqueline Morgan age 44 of Honeysuckle Road, Stinnett, KY was arrested off GOP Street in London after Deputy Allen was dispatched to a possible theft at an area motel.
Upon arrival at the scene Deputy Allen spoke to two individuals there who had allegedly attempted to help a lady in distress that had allegedly been involved in a disagreement and she needed assistance.
The two individuals that attempted to help her were associated with an outreach group from a church in Clay County.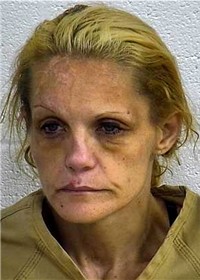 While these two individuals were attempting to assist Morgan, she allegedly stole several items from the two "Good Samaritans" trying to help her.
It was also determined that this subject was under the influence of Xanax.
Deputy Allen was able to retrieve all of the stolen items and return them to the lawful owners.
Jacqueline Morgan was charged with:
Public intoxication – controlled substances
Theft by unlawful taking $500 or more but under $1000
In addition, this subject was charged on an Owsley District Court bench warrant of arrest charging failure to appear in court regarding two charges of:
Theft by unlawful taking $500 or more but under $1000
This individual was lodged in the Laurel County Correctional Center.
Photo of accused attached is courtesy of the Laurel County Correctional Center.