2022 Trooper, Detective and Officer of the Year Announced
LEXINGTON, KY – On Sept. 14, Lt. Governor Coleman and the Kentucky State Police (KSP) honored 76 troopers and officers who wear the badge with a mission of creating a better, safer Kentucky for future generations. The awards presented were for acts of bravery and service that occurred in 2022.
KSP has approximately 940 troopers serving and protecting all Kentuckians at 16 posts located throughout the commonwealth, which is the highest number of troopers the agency has employed since 2006.
In 2022, KSP responded to nearly 400,000 requests for assistance, rescued Kentuckians from the deadly Eastern Kentucky flooding, conducted thousands of wellness checks on those involved in natural disasters and dangerous weather conditions, continued the fight against the deadly drug epidemic, obtained justice for victims, ran into unthinkable dangers, assisted local law enforcement agencies as needed and enhanced public and officer safety throughout the commonwealth.
"Our troopers and officers selflessly serve all 120 counties of our great commonwealth, and we owe them a debt of gratitude," said Lt. Governor Jacqueline Coleman. "Last year, when Eastern Kentucky experienced deadly flooding, KSP was first on scene and spent thousands of hours rescuing families, distributing food and water, transporting Kentuckians to safety and have continued to help throughout the rebuilding process. KSP is the backbone of Kentucky's safety and our real-life heroes."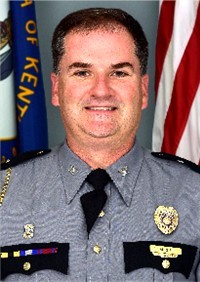 During Thursday's ceremony, KSP Commissioner Phillip Burnett, Jr. (right) took time to recognize the officers who lost their lives in June 2022 when responding to a shooting in Floyd County; including Prestonsburg Police Captain Ralph Frasure, Prestonsburg Police Officer Jacob Chaffins, Floyd County Deputy William Petry and Floyd County K9 Drago.
"As we celebrate these exemplary efforts tonight, let us also remember those who have made the ultimate sacrifice," said Commissioner Burnett. "The memory of these four units serves as a constant reminder of the risks you face every day and why we take time to recognize your heroic efforts."
The 2022 award recipients include:
Trooper Billy Ball was named 2022 Trooper of the Year. Trooper Ball is a 5-year veteran of KSP assigned to Post 9 Pikeville.
Detective James Royal was named 2022 Detective of the Year. Detective Royal is a 10-year veteran of KSP assigned to Post 11 London.
Commercial Vehicle Enforcement Officer Mark Townsend was named the 2022 Jason Cammack Officer of the Year for the KSP Commercial Vehicle Enforcement Trooper. Officer Townsend is a 16-year veteran of KSP assigned to the CVE West Region.
Trooper Sarah Burgess was named 2022 Public Affairs Officer of the Year. Trooper Burgess is a 7-year veteran of KSP assigned to Post 1 Mayfield.
Officer Stoney Shuler was named 2022 Facilities Security Officer of the Year. Officer Shuler is a 17-year veteran of KSP assigned to the Facilities Security Branch.
Captain Jennifer Sandlin received the 2022 Service Achievement Award. Captain Sandlin is a 20-year veteran of KSP assigned to Post 13 Hazard.
Twelve troopers were awarded the KSP Citation for Bravery, an honor bestowed on officers who perform acts of bravery, without regard for personal risk despite clear and obvious peril, and clearly above and beyond the call or risk of ordinary duty.
Sixteen troopers received the Lifesaving Medal, which is awarded to officers who perform life-saving acts under extraordinary circumstances.
Six troopers received the Meritorious Award, an honor bestowed on officers of the agency who distinguish themselves by an act of courage performed under more than ordinary circumstances.
Two troopers received the Guthrie Crowe Award, an honor bestowed on officers of the agency who sustain a severe wound or injury during the performance of their law enforcement duty.
Twenty troopers were named post-level Detective of the Year at the division level.
Twenty troopers were named post-level Trooper of the Year at the division level.
Three Commercial Vehicle Enforcement officers were named Officer of the Year at the regional level.
To view photos of the KSP overall winners, click here.
A complete listing of award recipients can be found on the KSP website.