MARION COUNTY, OR - An Oregon State Police Lieutenant suffered minor injuries after being rammed by a motorist who then fled on Interstate 5 in Marion County.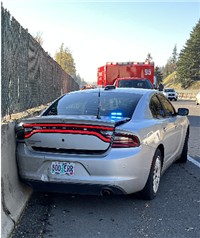 The incident took place Friday, November 17, 2023, 8:43 a.m., while the Lieutenant was attempting to get the suspect stopped and off the highway.
The suspect vehicle rammed the patrol vehicle from behind, causing it to spin and strike the barrier, before fleeing northbound. The suspect was located and stopped in the Salem area.
The suspect has been arrested and there is no longer a danger to the public.
The Oregon State Police is investigating the incident with assistance from the Marion County Sheriff's Office.
Due to the ongoing investigation, further details are unavailable for release at this time.