FRANKFORT—The father of a Covington Catholic High School student who was identified and threatened online after an tense encounter with protesters in Washington D.C. early this year is encouraging state lawmakers to take another look at legislation that would criminalize such threats.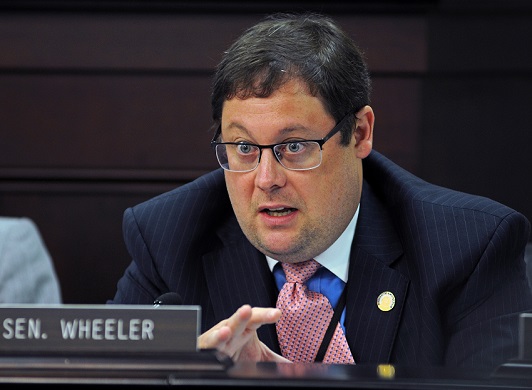 Sen. Phillip Wheeler, R-Pikeville, commenting on an anti-doxing proposal presented by Sen. Wil Schroder, R-Wilder.
Ted Sandmann asked members of the Interim Joint Committee on Judiciary to support a proposal by Sen. Wil Schroder, R-Wilder, that would prohibit anyone from using the Internet to release personal identifying information of a minor with intent to intimidate, abuse, threaten, harass or frighten the child – a practice known as "doxing."
"I believe legislation to criminalize the worst tendencies of the mob is vital to restoring public discourse," Sandmann said.
Sandmann's son, Nicholas Sandmann, was the subject of repeated online harassment and threats after an online video surfaced of the teen standing face-to-face with a Native American man named Nathan Phillips at the steps of the Lincoln Memorial on Jan. 18. The encounter occurred as Phillips, who had reportedly participated in the Indigenous Peoples March that day, walked among Nicholas and his Covington Catholic classmates while the teens gathered at the Memorial to catch their buses after attending the annual March for Life rally.
In the online video, Nicholas was wearing a "Make America Great Again" cap that his father said he had purchased that day. Phillips was beating a drum. The two stood face to face for several minutes, Sandmann said.
Numerous subsequent online attacks against Nicholas following release of the video have led to the filing of defamation lawsuits against The Washington Post and other media companies by the family, Sandmann told the committee. Schroder's proposal, he said, will "create legislation to protect minors from these types of attacks."
Schroder attempted to pass the anti-doxing proposal during the 2019 Regular Session. The proposal, contained in Senate Bill 240, passed the Senate 26-10 but stalled in the House near session's end. That proposal would have made doxing of minors a misdemeanor, although increased penalties would be allowed in cases involving physical injury, death, or financial loss.
"This is the interim process, so we are certainly open to suggestions, changes, open to hearing concerns, and hopefully talking those out," Schroder told the committee.
Schroder said the purpose of the bill is for serious threats. He said three basic elements would have to be evident for prosecution under the proposal: the release of personal identifying information, intent to cause some degree of harm, and "reasonable fear" of injury.
"Those are the kind of things we're getting at and again, there has to be a reasonable – if you are putting yourself in their shoes – there has to be that element that it's a realistic, reasonable fear," said Schroder.
House Minority Whip Rep. Joni L. Jenkins, D-Shively, who asked if the proposal would apply to bullying among students, said the intent of the legislation needs to be clarified.
"I'm not against this at all, but I think we need to be very careful that we don't open up something that we don't want to open up. But I do support the idea of this legislation," she said.
Sen. Phillip Wheeler, R-Pikeville, expressed support for the proposal. Wheeler said he is sympathetic to what Nicholas Sandmann has experienced since the January incident.
"Although freedom of expression and the freedom of the press are something we hold dear, there also needs to be some responsibility," said Wheeler. "I think this bill seems to do that type of thing. I think it is well-drafted and honed for its purpose." Wheeler added that he would like to see similar protections for adults.
"I think at some point expanding it is appropriate, because this happens to adults just as it happens to juveniles," said Interim Joint Committee on Judiciary Co-Chair Sen. Whitney Westerfield, R-Hopkinsville.
"This won't be last time we discuss this bill," Westerfield said.
END