Legislation supports local law enforcement, ensures vital cooperation between
local, state and federal partners on illegal immigration
FRANKFORT, Ky. – On Friday July 12, 2019, Gov. Matt Bevin furthered his commitment to "serve those who serve us" by joining state lawmakers, members of the Lexington Fraternal Order of Police (FOP) and Homeland Security officials in Lexington to call for passage, as soon as possible, of legislation to ensure local law enforcement can effectively cooperate with federal agencies in combatting crime.
The legislation, sponsored by Sen. Danny Carroll and Rep. John Blanton, prohibits local governments from enacting "sanctuary" policies that prevent local law enforcement from cooperating with U.S. Immigration and Customs Enforcement (ICE).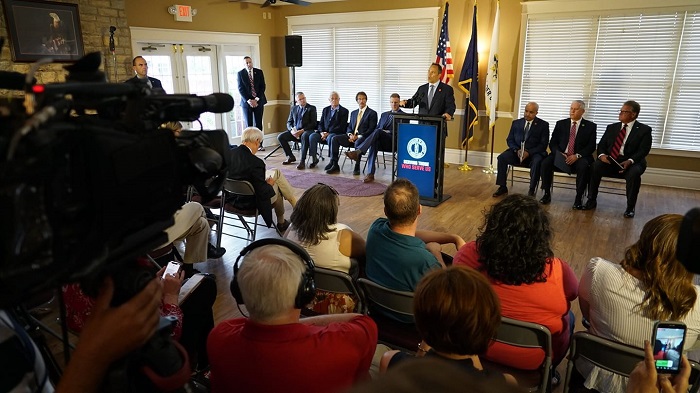 In recent months, politicians in some Kentucky communities have proposed these dangerous policies that discourage vital partnerships between local police and federal officials. State and local governments in liberal states like California, Oregon, Washington, New York, Rhode Island, and Connecticut have already adopted "sanctuary" policies.
"Irresponsible and legally questionable 'sanctuary' policies handcuff our law enforcement personnel and pose a significant risk to public safety," said Gov. Bevin. "Communication and collaboration among federal, state and local police is essential. We must never allow petty politics to jeopardize the safety of our law enforcement personnel or the tools they need to serve and protect our communities."
Sen. Carroll, a former Paducah assistant police chief, and Rep. Blanton, a former Kentucky State Police (KSP) major, each noted the urgency to address "sanctuary city" policies.
"Cooperation between federal, state and local law enforcement has never been more important than it is today," said Sen. Carroll. "Permitting any unit of local government to mandate limited (or no) cooperation with federal immigration officials would hinder the effectiveness of local law enforcement and put our citizens at risk. This legislation is not intended as a statement on immigration policy, but rather a statement of support for law enforcement officers who have sworn to protect their communities."
"'Sanctuary' policies allow politicians to force their political agenda upon the law enforcement community," said Rep. Blanton. "These types of policies are in direct violation to the oath that police officers take to protect and serve their communities, and legislation is necessary to ensure that law enforcement can do their job without the undue influence of politics."
The proposed legislation:
Clarifies state law regarding "sanctuary" policies by providing a precise definition of what exactly a "sanctuary" policy is,
Prohibits "sanctuary" policies in Kentucky and encourages federal-state-local law enforcement collaboration, and
Grants the Commonwealth the authority to enforce these provisions.
Law enforcement groups have urged Gov. Bevin and members of the General Assembly to take action on this important issue. These groups note that "sanctuary city" policies serve as a virtual flashing neon sign for criminals to set up shop within a community, because of the lack of local, state and federal law enforcement coordination.
"Restricting valuable law enforcement partnerships and resources based solely on political rhetoric or agendas places entire communities at risk," said Jason Rothermund, president of the Lexington Fraternal Order of Police.
Kentucky State Police Commissioner Rick Sanders added, "In my career as a member of federal, local, and now state law enforcement, I understand the importance and the need for law enforcement at all levels to work together. This collaboration is necessary for the proper enforcement of our laws, and to ensure the safety and security of our citizens."
In addition to endangering citizens and hamstringing law enforcement, these policies may also threaten communities' eligibility for federal homeland security funding and clearly defy federal laws.
"The Kentucky Office of Homeland Security (KOHS) and the entire national Homeland Security enterprise has a prime responsibility to provide resourcing opportunities to communities and their first responders," said KOHS Executive Director Doc Holiday. "A police officer's job is inherently a dangerous one, especially in light of ever-diminishing resources, and 'sanctuary city' policies restrict police officers' ability to protect the public. This not only puts law enforcement lives at risk, but also puts citizens at risk as well."
At least 10 other states — Alabama, Arizona, Florida, Georgia, Iowa, Mississippi, Missouri, North Carolina, Tennessee, and Texas — have already enacted legislation prohibiting "sanctuary" policies. According to the National Conference of State Legislatures (NCSL), an additional 21 states, including Kentucky, have proposed legislation to outlaw "sanctuary" policies.
An archived version of today's press conference is available on Gov. Bevin's official Facebook page.
To access a draft copy of the proposed legislation, click here.
Photos from Governor Matt Bevin Facebook page.