Pulaski County, Ky. (August 21, 2019) - Sheriff Greg Speck reports that a Matthew Rodney Davis, age 26 of West Highway 70 in Eubank was arrested at 9:33 PM Monday evening after a pursuit by the Pulaski County Sheriff's Office and the Eubank Police Department.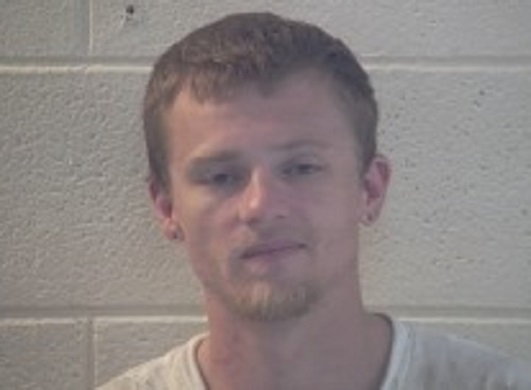 At approximately 8:48 PM on August 19, 2019, Deputy Marcus Harrison received a report of a stolen vehicle heading towards Puncheon Creek Road from Charles Burton Road. Deputy Harrison was already on West Ridge Road and began to observe for the stolen vehicle.
Pulaski County 911 Dispatch advised him that the stolen vehicle was on Floyd Switch Road and was heading towards West Ridge Road. Deputy Harrison observed the vehicle recklessly pull out of the intersection of Floyd Switch Road onto West Ridge Road at a paced speed of approximately 71 mph and no lights on.
Deputy Harrison stated he believed the way the vehicle was being driven posed an immediate danger to anyone on the roadway. Deputy Harrison activated his emergency equipment to signal for the driver to stop but he refused.
Chief Tony Duncan was heading towards Deputy Harrison's and the fleeing vehicle's location. At this time the suspect driver accelerated and nearly struck Chief Duncan head on. Chief Duncan and Deputy Harrison continued the pursuit onto Puncheon Creek Road.
The pursuit continued with the suspect vehicle going behind a residence and was observed by Chief Duncan throwing something out of the vehicle believed to be a firearm but has not been located as yet. The suspect then fled on foot into the tree line behind the residence.
Pulaski County 911 Dispatch confirmed that the vehicle had been reported stolen earlier that day and was being investigated by Deputy Zach Mayfield.
Multiple units from the Somerset Police Department and a Trooper Adam Childress came to assist in this incident.
As a result of the pursuit, Chief Duncan's vehicle was damaged at an estimate of over $500.00.
A lengthy search of the area began. Later the suspect, was apprehended by Sergeant Richard Smith at another residence hiding up a tree.
The suspect was identified as Matthew Rodney Davis, age 26 of Eubank, KY.
Deputy Marcus Harrison charged Matthew Davis with the following charges:
1. Speeding 16 MPH Over Limit
2. Fleeing or Evading Police, 1st Degree (Motor Vehicle)
3. Fleeing or Evading Police, 2nd Degree (On Foot)
4. Receiving Stolen Property Under $10,000 (Stolen Vehicle)
5. Reckless Driving
6. Criminal Mischief, 1st Degree
7. Possession of Burglary Tools
8. Operating on Suspended or Revoked Operator's License
9. Wanton Endangerment, 1st Degree – Police Officer
Matthew Davis had previously been arrested on June 20, 2019 in an investigation by Sergeant Kyle Wilson of the Pulaski County Sheriff's Office for the theft of another vehicle and for Criminal Mischief, 1st Degree and Fleeing and Evading Police, 2nd Degree (Motor Vehicle).
He was lodged in the Pulaski County Detention Center where he remains.
The Eubank Police Department and Pulaski County Sheriff's Office were assisted by the Kentucky State Police and the Somerset Police Department.