FRANKFORT, Ky. (August 23, 2019) - On Thursday, Labor Cabinet Secretary David A. Dickerson announced Maker's Mark Distillery in Loretto earned the Governor's Safety and Health Award.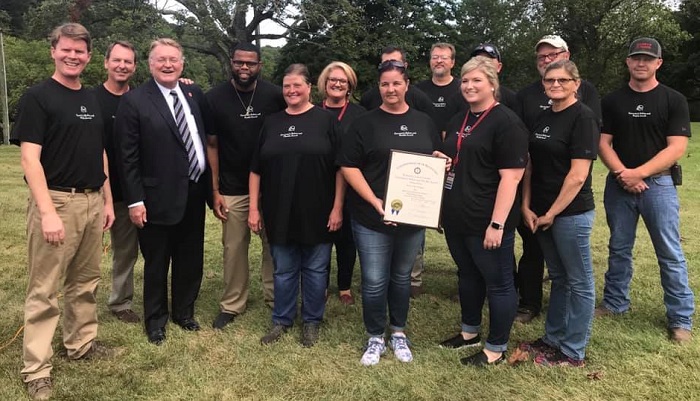 "Creating safe and healthy work environments is crucial to the success of our employees and companies," Dickerson said. "I want to commend Maker's Mark Distillery on this incredible achievement."
The award recognizes companies that are free of any egregious safety or health violations for 24 months. Maker's Mark Distillery has more than 3 million hours worked without a lost time injury.
"There can be nothing more important at Maker's Mark than the safety of our people," said Maker's Mark Chief Distillery Officer Rob Samuels. "Keeping each other's safety and well-being in mind is a key part of our culture. And it's felt beyond the staff; that mindset contributes to the unique experience visitors have when they step onto our campus, as well. We couldn't be prouder of this award and all that our people do every day to have achieved it."
The historic Maker's Mark Distillery handcrafts each barrel of bourbon, sealing each bottle with the iconic 400 degree red wax.
The Governor's Safety and Health Award is given to employers and employees, who together have achieved the minimum number of hours worked without experiencing a lost-time injury or illness at their establishment. The number of hours without a lost-time injury or illness is dependent on the amount of employees and an organization can receive the award again in subsequent years providing there were no recordable injuries or illnesses resulting in lost work days.
For more information on the Governor's Safety and Health Award, visit www.kysafe.ky.gov/awards.
Follow the Kentucky Labor Cabinet on Facebook and Twitter for all the latest updates.