FRANKFORT (August 24, 2019) — Calling decades-old state incentives that have led to county jail overcrowding "perverse," Kentucky Justice and Public Safety Secretary John Tilley yesterday called for legislative changes that he said could lower the number of state inmates in jails by up to one-third.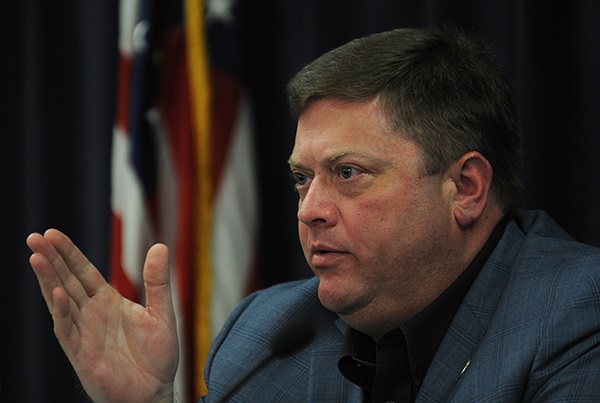 Interim Joint Committee on Judiciary Co-Chairman Rep. Jason Petrie, R-Elkton,
fielding questions during testimony from the Justice and Public Safety Cabinet
Seventy six of the state's 82 county jails currently house around half of the state inmate population, said Tilley, with 29 jails at or over 150 percent capacity. The jails are paid by the state $31.34 per day for each Class D (and in some cases, Class C) state inmate they house, while housing a state inmate in a Kentucky prison costs about $71 a day.
That difference in cost makes it cheaper for the state to house state inmates –most of them low-level Class D felony offenders—in county jails than in state prisons. It has also allowed some counties to benefit financially over the years according to Rep. Chris Harris, D-Forest Hills, who said the incentives "suggested long ago by the state as a way to make additional money" have allowed his home county to make bond payments on a jail expansion.
Tilley told the Interim Joint Committee on Judiciary that the state incentives create "a perverse financial incentive" for county jails. "It's a situation they didn't create, but as a bottom-line decision for them – how could they not want to balance their budget if we have inmates that are in need of housing?"
"This isn't the fault of counties or county jailers … They are saddled with an impossible task," he added.
Tilley, a former state House member from Hopkinsville, said increasing the Class D felony theft threshold to $2500—the current threshold is $500—and reducing penalties for low-level possession, or what Tilley called "simple possession," of controlled substances to misdemeanors could help to reduce the number of state inmates in county jails by up to one-third without irreparably harming county budgets or public safety.
Texas and other states have raised their felony theft threshold level to $2500 without financially hurting counties or hurting public safety, he told lawmakers.
"There's no increase in theft when that occurs," he said.
Tilley said 3,200 of state inmates today are housed on simple drug possession and/or theft charges.
Tilley's comments were in reply to comments made by Harris, who said state funding for counties that jail state inmates is now "subsidizing" many county budgets. Harris expressed concerned that reliance on the incentives could negatively impact county budgets as the state works to lower its inmate population, now at more than 24,000.
"In Pike County I know it's a significant portion of the Pike County jail budget, the revenue that it receives from housing of state inmates. So I know that it would be a financial problem if that was taken away from the county. And it would have to be subsidized … from the county budget," said Harris.
Tilley said the potential impact on counties could be lessened through a cost-sharing formula that has been discussed for at least two years. The idea would be for further reforms to have what Tilley called a "net-neutral effect" on counties in terms of cost, through some sort of cost-sharing arrangement.
Counties can also refuse Class D state inmates if they wish said Tilley, when asked about a county's right to refuse inmates by Interim Joint Committee on Judiciary Co-Chair Rep. Jason Petrie, R-Elkton.
"In fact, they don't have to take any," Petrie said, and Tilley agreed.
Rep. John Blanton, R-Salyersville, who is a retired Major with the Kentucky State Police, commented on raising the felony theft threshold and reducing certain drug possession charges from felonies to misdemeanors. Blanton said reducing felony arrests would still place a burden on county jails, since county jails hold misdemeanor offenders.
Tilley said that could indeed happen, adding that is one reason why there needs to be a net-neutral agreement with counties in terms of cost, but less of a criminal justice response in terms of incarceration.
"With possession only, I think we would all agree (that) typically denotes addiction, and I think we could divert those offenders into treatment," Tilley said. "It will shift that cost, but the idea would be that we need to move away from a criminal justice response if we're talking about a public health disease, again, addiction."
Blanton said possession of a small amount of narcotics is common among drug traffickers who don't want to face felony trafficking charges if arrested. That, he said, is another perspective that needs to be considered, as well as the impact of drug trafficking on communities.
"We have to put focus on these people as well, that we not forget about them," said Blanton.
END