FRANKFORT, Ky. — Biologists with the Kentucky Department of Fish and Wildlife Resources are closely monitoring water conditions at Lake Cumberland with fish starting to show signs of stress due to elevated water temperatures and depleted oxygen levels.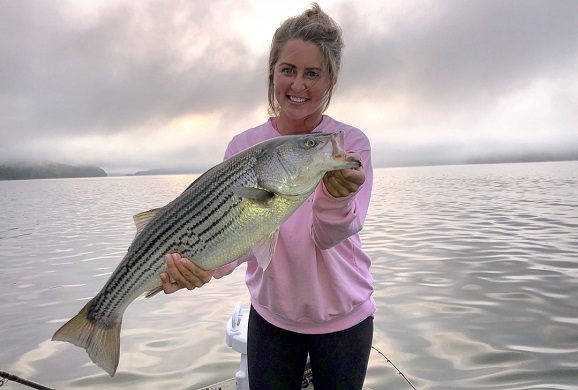 "We have been experiencing some shad and alewife die-offs in different parts of the lake the past few weeks, which is due to the continued high water temperatures and deteriorating oxygen levels," said Marcy Anderson, Southeastern District fisheries biologist with Kentucky Fish and Wildlife. "The striped bass bite had been good up to this week, but now the fish are getting sluggish, which is a sign they are getting stressed due to poor water quality conditions."
Lake Cumberland, a 50,250-acre reservoir in southern Kentucky, reaches a depth of 200 feet in the old river channel near Wolf Creek Dam. Its depth allows the lake to support cool-water species, such as walleye and striped bass.
A combination of factors can deplete critical dissolved oxygen levels in the cooler water depths preferred by these species.
When flooding rains swelled Lake Cumberland to record levels earlier this year, record discharges followed from Wolf Creek Dam. When water is discharged, it is pulled from the cooler depths of the lake.
"What we have in Lake Cumberland is not unique; it's something you see in a lot of larger lakes," said Ron Brooks, Fisheries Division director with Kentucky Fish and Wildlife. "You have a normal thermocline below which you have cooler unoxygenated water. You go down another 40 feet and there is an additional oxygenated layer. That layer is where your walleye and your big stripers hang out. When the dissolved oxygen in that deeper layer disappears, we get fish kills."
Anderson said striped bass and walleye become stressed when dissolved oxygen levels fall below 3 mg/L. They can survive at levels below 2 mg/L, but not for an extended time.
Dissolved oxygen levels measured Monday near Jamestown were inadequate or marginal below 30 feet. At the dam, dissolved oxygen levels were inadequate or marginal below 35 feet. Unfortunately, near the surface, where dissolved oxygen is adequate, water temperatures are too warm. Striped bass and walleye generally prefer temperatures between 64 and 77 degrees.
"Normally we have a layer of suitable dissolved oxygen and preferred temperatures for striped bass and walleye in the lake," said Jeff Ross, Fisheries Division assistant director. "But the dissolved oxygen in the temperature bubble is disappearing. We're concerned that both species will continue holding in that cooler water until the oxygen runs out and they'll become trapped."
Fish species in the lake that are more tolerant of warmer water, such as smallmouth and largemouth bass, crappie and bluegill, are not as affected by the current conditions.
"There's nothing we can do to add oxygen to that lower level," Ross said. "We just need cooler weather to bring surface temperatures down."