Corbin, KY – Taste of Southeast Kentucky, featuring the best appetizers, entrees, desserts and drinks the region has to offer, is coming to The Corbin Arena on October 24, 2019.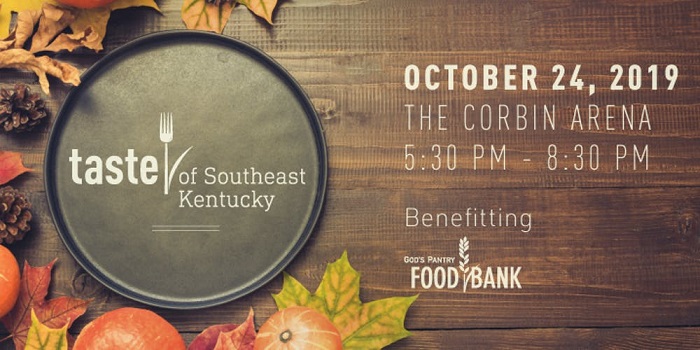 In its sixth year, Taste of Southeast Kentucky has continued to grow necessitating a move to a larger venue. Taste of Southeast Kentucky is an annual fundraiser for God's Pantry Food Bank supporting both the Southeast Regional Distribution Center and our partner agencies in the area. By moving the event, we'll continue to build on our momentum, we'll be able to accommodate more guests, we'll further the impact of our mission, and we'll allow the event to continue growing at the rapid pace we've seen in the past couple of years. Guests will not be short on food, drinks and fun with the participating vendors bringing items such as Jalapeño Wanton Poppers, Mini Hot Browns, Oyster Shooters with White Balsamic Vinaigrette, Artisan Cheese Charcuterie, Bella's Brew Coffee, and much more.
"I'm so proud to be a part of the Taste of Southeast Kentucky! For many years now, as a committee member and participating vendor, we have seen our event grow into a wonderful regional affair," says David Keck, owner of David's Steaks and Catering. "Our community has supported the efforts through God's Pantry Food Bank who then services our local food pantries, and this year we are hoping to grow our fundraising efforts! My experience as a vendor at our 'Taste' event reinforces my belief in the God's Pantry Food Bank mission and keeps me connected to our many friends in the community. Come to the Taste of Southeast Kentucky and get reacquainted with old friends and make many new ones. Hope to see you there! "
From 5:30 pm – 8: 30 pm guests will enjoy a variety of food and spirits all while raising awareness and money to help end hunger in their communities. "More than 60 partner agencies in eleven Southeast Kentucky counties rely on the Southeast Regional Distribution Center for access to food resources. Last year the warehouse distributed 6.1 million pounds of food", said Michael Halligan, CEO of God's Pantry
Food Bank. "Seeing the community come together for a great event, that will also help feed their neighbors who are hungry, is heartwarming."
Along with tastings, guests will enjoy listening to Kites, a local indie-folk duo. There will also be a live auction featuring a one week stay at Island Winds Condominium in Fort Myers Beach, Florida, and two stadium suite tickets to UK vs Tennessee Martin football game on November 23. This is in addition to the many silent auction items available, allowing attendees to bid for a cause!
Tickets are now on sale and may be purchased at www.tasteofsoutheastky.org. The 2018 event raised enough funds to provide more than 265,000 meals to feed families in Southeast Kentucky. We invite you to join us for a fun evening and give the gift of food.
About God's Pantry Food Bank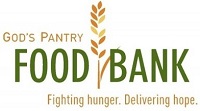 The mission of God's Pantry Food Bank is to reduce hunger in Kentucky through community cooperation making the best possible use of all available resources. Partnering through more than 400 food pantry and meal programs the Food Bank serves 50 counties of Central and Eastern Kentucky distributing $100 worth of food for every $10 donated. Last year, God's Pantry Food Bank and its partner agencies distributed more than 39.7 million pounds of groceries to more than 190,000 individuals, including 13.8 million pounds of fresh produce. For more information visit us at www.godspantryfoodbank.org