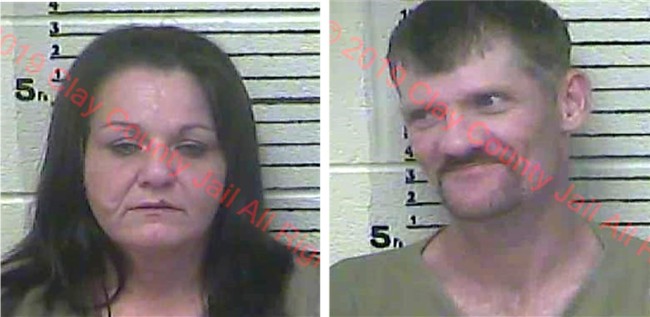 MANCHESTER, KY (October 24, 2019) -The Manchester Police Department is reporting that: On Wednesday October 23, 2019 at approximately 9:00 P.M. Manchester Police Officer Jeff Couch was patrolling the Town Branch area when he noticed a male and female around an abandoned house.
When the suspects noticed officer Couch they fled into the woods behind the property.
Manchester Police K-9 handler Ryan Jackson and K-9 Unit "Zeus" were called to the scene.
During the search for the suspects, K-9 Unit "Zeus" tracked and located a white male approximately 200 yards from the residence hidden behind a tree. The suspect was later identified as Terry Holland .
A short-time later the female was located in the woods and identified as Tina Stidham.
Both were arrested and lodged into the Clay County Detention Center.
Tina Stidham age 40 was charged with:
Criminal Trespassing
Fleeing and Evading on Foot
Terry Holland age 40 was charged with:
Criminal Trespassing
Fleing and Evading on Foot
Assisting at the Sene was Manchester Police Chief Chris Fultz, Clay County Sheriff's K-9 Handler Brandon Edwards, Clay Co Sheriff's Deputy Cody Blackwell and KSP Trooper Jared Smith.