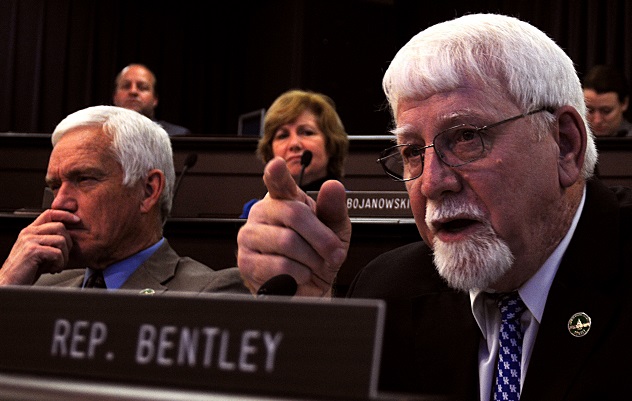 Rep. Danny Bentley, R-Russell, asking a question concerning the diversion and prescribing of controlled substances in Kentucky.
FRANKFORT, KY (November19, 2019) – Drug overdose deaths in Kentucky decreased 15 percent last year. That's 233 fewer people dying.
"We were very pleased to see 233 families that did not have to go through the pain of losing a loved one to a preventable death," Office of Drug Control Policy Executive Director Van Ingram said while testifying before yesterday's meeting of the Interim Joint Committee on Health, Welfare and Family Services. "We are certainly not declaring victory. We are not celebrating, but we do feel confident that we are moving in the right direction."
He was among a group that spoke about the results of numerous policy initiatives in Kentucky to reduce the number of drug overdose deaths. Last year's decrease followed years of steady increases in the death toll, driven mostly by a rise in opioid abuse, heroin and fentanyl.
Ingram said the 15 percent decrease was a bright spot because the nation as a whole saw a decrease of just under 5 percent.
He said some of the policy initiatives include curbing the number of controlled substances prescribed by doctors. From 2015 to 2018, the number of opioid analgesics dispensed in Kentucky fell by a little over 800,000. That's equivalent to 64 million fewer dosage units.
Dr. Doug Oyler of University of Kentucky HealthCare testified that the initiative had reduced opioid prescriptions by 1,300 annually just within that health care system.
"I love hearing that some ... of the legislative actions we have taken to really move this conversation forward are making a difference," said Rep. Kimberly Poore Moser, R-Taylor Mill, co-chair of the committee, and former director of the Northern Kentucky Office of Drug Control Policy.
One initiative is expanding the use of medication-assisted treatment, known as MAT, to treat opioid use disorders. Ingram said 1,240 doctors practicing in Kentucky have received a federal waiver to prescribe the drug buprenorphine, used in MAT. Ingram added, however, that most of those doctors are treating five or fewer patients.
Buprenorphine has also become the No. 1 drug being diverted or given to another person for illicit use. Ingram said that was "tragic" but that the abuse of buprenorphine generally doesn't cause overdose deaths.
Rep. Robert Goforth, R-East Bernstadt, a pharmacist by trade, asked if Kentucky needed to pass legislation to increase training for doctors in hopes of reducing the diversion of the drug. Ingram said Kentucky could require more rigorous training than the eight-hour online course federal authorities require before prescribing buprenorphine.
"We should look into that," Goforth said in response.
Ingram said arrests for possession of heroin were down 15 percent and arrests for trafficking heroin were down 12 percent from 2017 through March of this year. He added that heroin deaths were down almost 54 percent during the same period.
Ingram attributed the downturn to fentanyl from China flooding the United States. He said the drug cartels recognized that it was a more profitable business model to buy chemicals from China than it is to grow opium poppies.
"Unless the Chinese live up to their promises and make real efforts to control the chemical supply in that country ... fentanyl is going to be the business model we see," Ingram said. "That is alarming."
He highlighted the fact that fentanyl trafficking arrests are up 73 percent in the state.
"There is a lot of work to be done," Ingram said, adding that there were still 1,333 lethal overdoses last year. "That isn't acceptable. It's not a number we can live with."
Ingram said the 10 counties where people are statistically at the greatest risk of overdosing are Madison, Clark, Kenton, Boyd, Gallatin, Pendleton, Owen, Jefferson, Grant and Campbell.
"As a state, we have come to learn treatment isn't enough," Ingram said as he described some recent initiatives undertaken by his office. "Transitional housing for people in early recovery and employment support for people in early recovery are just as important as anything else we can do.
"People do get better, but it doesn't always happen on our timetable. It happens on theirs. We want to do the things we can to increase the odds that people stay in recovery and continue to get better."
Rep. Danny Bentley, R-Russell, also a pharmacist, asked Ingram about recent court settlements against drug companies and pharmacy chains accused of fueling the addiction crisis.
"There is lots of blame to go around, but there is only a small group that profited," Ingram said.
END