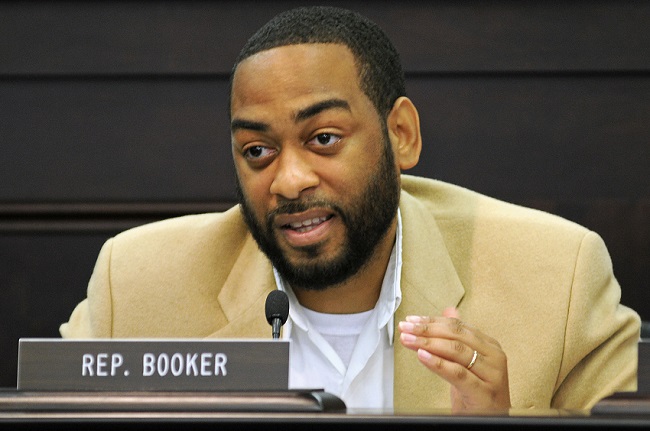 Rep. Charles Booker, D-Louisville, commenting on potential legislation that would allow Kentucky courts to temporarily limit gun ownership by persons deemed a threat to themselves or others.
FRANKFORT, KY (November 22, 2019) —Indiana's so-called "red flag law" has been on that state's book since 2005, but Clark County (IN) Prosecuting Attorney Jeremy Mull says he does not frequently use the established law in court.
"I use the law regularly but I do not use it frequently," Mull told the Interim Joint Committee on Judiciary today during a discussion on similar legislation that may be proposed in Kentucky. "I think last year I filed over 6,000 criminal cases in my county, and I filed around 12 of these."
The purpose of Indiana's law, says Mull, is to prevent someone who is considered to be a safety threat from buying or possessing firearms until their mental state can be assessed or the issue otherwise resolved. Three separate reviews must be met before that can happen, said Mull: law enforcement must find probable cause that the person is a safety threat, a prosecutor must file an action in court, and a judge has to find "clear and convincing evidence" that an order is needed.
"I am confident that we have saved a lot of lives in Indiana with this law and that our state is safer because of it," Mull told the committee.
Sitting near Mull in the committee meeting were Sen. Paul Hornback R-Shelbyville, and Sen. Morgan McGarvey, D-Louisville – two Kentucky lawmakers who plan to file bipartisan red flag legislation in the Commonwealth. McGarvey said the legislation is still a working draft but would likely allow law enforcement, and possibly immediate family, to petition the courts for an Extreme Risk Protection Order (ERPO)—a temporary court order to keep someone considered "an imminent and substantial danger" to themselves or others from buying or possessing firearms for a limited time.
McGarvey expects the legislation to have at least two prongs—a petition for an ERPO and a hearing to determine if an ERPO is necessary—and to ensure due process.
Hornback said due process is important to any ERPO process, addressing concerns raised by Rep. Savannah Maddox, R-Dry Ridge. Maddox, said taking firearms away from someone who hasn't committed a crime would violate, "at a bare minimum, three constitutional rights in the U.S. Constitution alone."
Hornback—who described himself as a gun owner, hunter, and supporter of the 2nd Amendment—said he wants to ensure there are due process safeguards under law but also sees a need to improve public safety. "I think there are ways we can work together to solve some of the problems we have with gun violence, with other types of violence, so that we can help people," he told the committee.
Several members of the public sitting behind Hornback and McGarvey during the meeting wore tee shirts that read "Whitney/Strong," the motto of the Whitney/Strong Foundation and its founder Whitney Austin, who appeared before the committee. Austin founded the organization with her husband months after she was shot 12 times while walking into work at downtown Cincinnati's Fifth Third Bank building in Sept. 2018. Three people were killed in the attack and two injured, including Austin, before police shot and killed the gunman.
Austin said an ERPO law is "highly necessary" in a state like Kentucky, which Austin said has above-average suicide rates and an increase in mass violence. "It is about solutions that are bipartisan, reasonable, and effective," she told the committee.
Interim Joint Committee on Judiciary Co-Chair Rep. Jason Petrie, R-Elkton, commented later in the meeting on what he considers to be a "faulty" vs. "legitimate" path to limiting someone's constitutional right to gun ownership. He said he thinks a "mental health component" should be part of the discussion.
"If the issue is you have a concern about someone, they may be dangerous, 'we need to take away their guns,' that's a faulty path," he said. A "legitimate pathway," he said, would be a concern about someone with some mental health issue being a danger to themselves or others, and possibly not being capable of executing their constitutional rights.
Fellow Co-Chair Sen. Whitney Westerfield, R-Hopkinsville, followed Petrie's comments by saying the issue will be "addressed in a crucible," adding, "That's what this process is for."
As of this fall, 17 states and Washington D.C. have some type of red flag law in statute, according to Pew Charitable Trusts. Legislation that would have established ERPOs under Kentucky law were filed during the 2019 Regular Session in both the House and Senate, including Senate Bill 244 filed by McGarvey. That bill remained in the Senate Judiciary Committee at session's end.
END