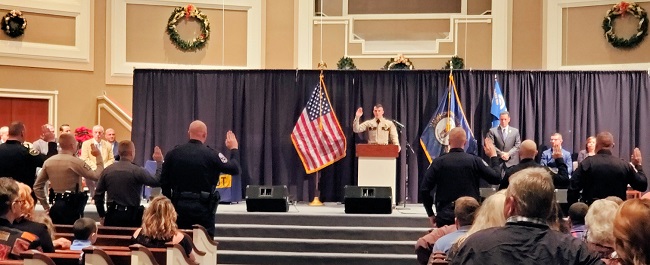 LONDON, KY (December 6, 2019) - Sheriff John Root proudly announces the graduation of Deputy Hunter Disney from the Department of Criminal Justice Training - Police Academy class #506 on Thursday, December 5th, 2019.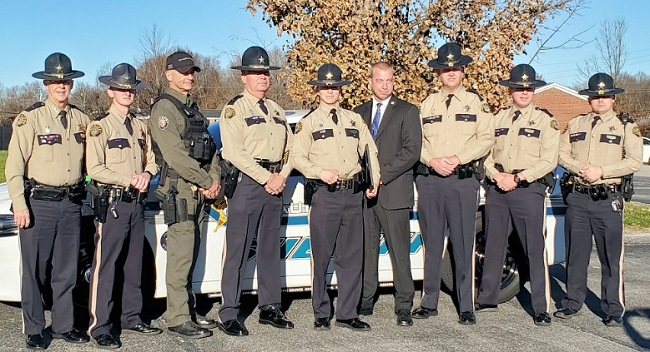 The graduation was held at First Baptist Church, on the Eastern By-Pass at Richmond, Kentucky. Laurel County Sheriff John Root and a large contingent of Laurel County supervisors, deputies and detectives attended the graduation. In addition, Sheriff Root represented the Kentucky Sheriff's Association on the stage during commencement.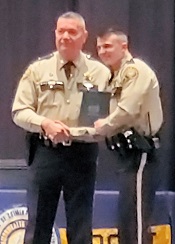 The DOC JT provides entry-level and advanced individual training for approximately 9000 law enforcement personnel annually. The 20 week, 800 hour law enforcement basic training course is mandatory for all Kentucky law enforcement officers who are required to comply with police officers professional standards act of 1998.
The graduating students represent the successful completion of a highly structured, comprehensive curriculum. As a result, each officer is better prepared to meet the ever-increasing demands placed on today's law enforcement officers.
Deputy Hunter Disney has prior service with the Laurel County Sheriff's office, and resides in Laurel County. He is a 2015 graduate of South Laurel High School. His parents are: Amy Root of London, and Roy Disney of Clarksville, Tennessee.
Pictured left: Laurel County Sheriff John Root and Laurel County Deputy Hunter Disney on the stage receiving his certificate of graduation.
Congratulations Deputy Hunter Disney!