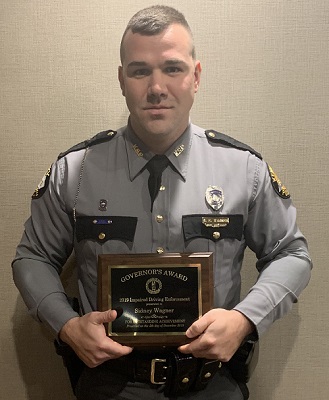 Harlan, KY. (December 6, 2019) – The Kentucky Office of Highway Safety (KOHS) honored more than 200 law enforcement officers from more than 180 agencies across the Commonwealth on Dec. 5 for their efforts to target impaired drivers.
The 2019 Governor's Impaired Driving Enforcement Awards ceremony was held at the Hyatt Regency in downtown Lexington. Awards were presented to officers with the most impaired-driving arrests in each agency and Highway Safety All-Star awards were presented to the top three in each division.
In addition to the individual and division impaired driving arrest awards, the KOHS also presented special recognition Highway Safety All-Star awards to those who aided in the recent improvement of Kentucky's Drug Recognition Expert (DRE) and Advanced Roadside Impaired Driving Enforcement (ARIDE) training.
Tpr. Sidney Wagner was honored from Kentucky State Police, Post 10 Harlan. While Tpr. Wagner is assigned to Knox County he stated "it was an honor to except this award". Tpr. Wagner also stated "if you plan to drink alcohol, make sure you plan for a designated driver".
Report any drunken drivers that you see. Safely pull off the road and contact law enforcement. You can contact Kentucky State Police hotline at 1-800-222-5555.