FRANKFORT, KY (January 15, 2020) – The rollout of Real ID-compliant driver's licenses and ID cards resumes this week with regional offices opening in Bowling Green, Paducah and Somerset, state officials told the House Transportation Committee yesterday.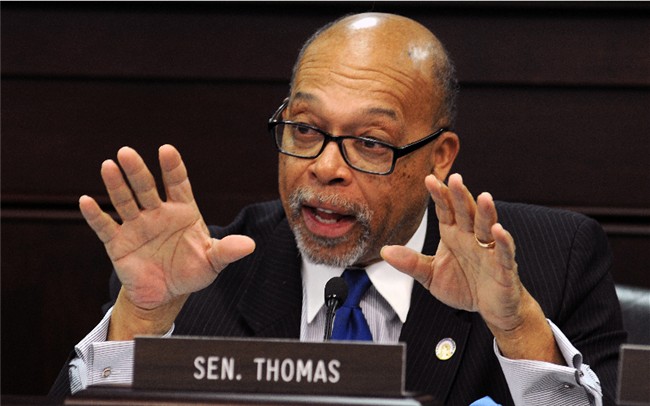 Rep. Walker Thomas, R-Hopkinsville, asking questions about the rollout of Kentucky's Real ID offices.
Transportation Cabinet Secretary Jim Gray, who is a former two-term mayor of Lexington, told the committee that the Bowling Green office has officially opened. The other two offices are scheduled to officially open at the end of the week, he said.
The offices are among 12 initial regional offices planned statewide, with a central office opened in Frankfort last fall. More offices – as many as 30, said Gray—may be added in time, although the deadline for compliance with the federal Real ID requirement no later than October 2020 makes immediate action necessary, Gray said.
The locations of the initial 12 offices announced by the Cabinet last fall include Bowling Green, Paducah and Somerset as well as Manchester, Jackson, Prestonsburg, Morehead, Florence, Elizabethtown, Madisonville, Louisville, and Lexington.
"We need to move very swiftly in implementation in the short run to get us up by the deadline," said Gray.
The federal 2005 Real ID Act requires states to issue more secure driver's license and ID cards to individuals who want to board commercial aircraft and enter certain federal facilities after October 2020. The regional offices will issue "voluntary travel IDs" to qualified individuals who wish to fly domestically without a passport or other accepted ID after the October deadline.
Kentuckians can continue to use their valid current driver's license and ID cards to board domestic flights through October.
Rep. Kathy Hinkle, D-Louisa, asked Gray if there is a date set for the rollout of regional offices in Eastern Kentucky. Gray replied the Cabinet is "not quite there yet" but will update Hinkle as more dates become available.
Rep. Walker Thomas, R-Hopkinsville, whose district includes Fort Campbell, said the nearest regional office to his district will be in Madisonville—about an hour or so from the Army base. Thomas asked if there is a possibility that a Real ID office could be located closer to Christian County. Gray said future offices will depend on some "monitoring" this year.
"The plan is ultimately to go up to 28 or 30. There's a lot of change going on here with technology," though, said Gray. Changes at the federal level could allow the state to introduce new apps or other technology to streamline implementation, Gray said, but he doesn't want the state to act "prematurely."
"We need to be thoughtful and careful about how much investment we make, for example, in bricks and mortar, so we don't overinvest prematurely," Gray said. "There are a lot of moving parts but we're getting our arms around it."
The committee also voted today to approve House Resolution 11, sponsored by Rep. Jim DuPlessis, R-Elizabethtown. Now on its way to the House chamber for approval, the resolution would urge Congress to require auto manufacturers to install child safety features that sound an alert if a child is left in the back seat of a vehicle.
Over the past 30 years, DuPlessis said, more than 900 children in the U.S. have died after being left in hot cars, largely by accident.
"Why not have the pennies it costs to have a seat sensor in the back seat to let the driver know … there's still someone in the back seat of the car," he added.
--30--