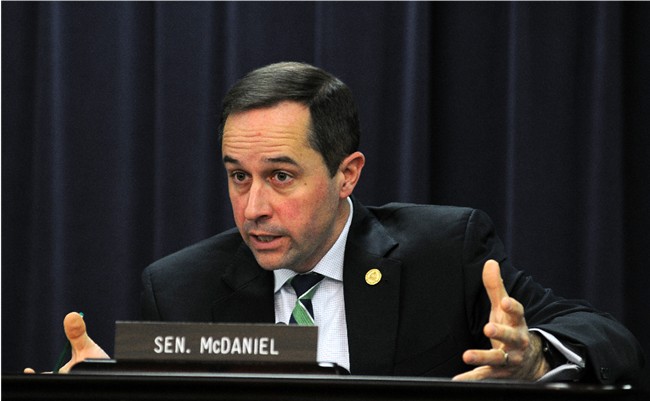 Sen. Christian McDaniel, R-Taylor Mill, asking a question about Senate Bill 11, a measure relating to criminal damage to rental property.
FRANKFORT, KY – A measure to discourage tenants from damaging rental properties after they are evicted advanced out of a Senate committee on Tuesday – the first bill to do so in the Senate this session.
The legislation, known as Senate Bill 11, would clarify current criminal mischief statutes by creating a category in Kentucky's criminal code exclusively for damaging rental properties. It wouldn't increase the penalty, said Sen. John Schickel, R-Union, who introduced the bill.
After Meg Savage of the Kentucky Coalition Against Domestic Violence spoke out against SB 11, the measure was amended by the Senate Committee on Licensing, Occupations and Administrative Regulations to give prosecutors greater discretion when deciding what criminal charge to bring against people caught damaging rental units. Savage said she was concerned abusive partners may blame their victims for damaged apartments – even with the amendment.
Jesse Brewer, a property manager from Northern Kentucky who testified in support of SB 11, said the bill would help property managers more easily identify people with a history of trashing rental units when vetting prospective tenants through criminal background checks.
"I have dealt with the issue of damaged properties numerous times," said Brewer, who is also a Boone County commissioner. "Additionally, I have worked with multiple clients who have endured a wide variety of intentional damage to their property – things such as tearing all the cabinets off the walls, plugging the drains, leaving the water running, smearing human feces on ceilings, concrete in the drains and so on."
Sen. Christian McDaniel, R-Taylor Mill, asked Brewer whether SB 11 would prompt more prosecutors to pursue criminal charges against people who damage rental properties.
"I'm hoping this will be another tool in the prosecutor's tool belt," said Brewer, adding the proposed change hopefully clarifies that intentionally damaging a rental unit is a criminal act and not just a civil matter. "It gives prosecutors something in the statute concerning rental properties they can sink their teeth into."
END