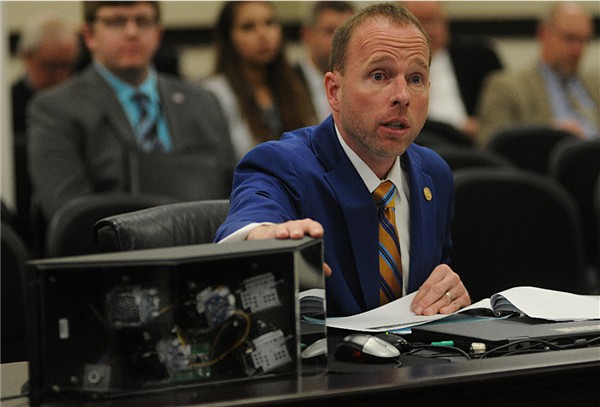 Rep. Robert Goforth, R-East Bernstadt, testifying on his school bus safety proposal found in HB 34.
FRANKFORT, KY—A bill that proposes using school bus cameras to improve bus safety while potentially generating needed revenue for local school districts and the state is on its way to the Kentucky House.
House Bill 34 sponsor Rep. Robert Goforth, R-East Bernstadt, told the House Transportation Committee that his proposal—which would be optional for school districts—would generate funds through fines levied against drivers recorded illegally passing stopped buses by cameras affixed to school bus stop arms. Offenders would face civil fines of $300 for a first offense and $500 for a second offense, with criminal penalties also possible.
A 2018 pupil transportation survey indicated that citations could be levied against over 2660 drivers each day of the school instructional year depending on how many school districts use the cameras, said Goforth.
"That's 484,000 times a child's life is put in danger. So we have a serious problem, and we need to start catching these offenders," he told the committee.
School districts could work with a third-party vendor for installation and maintenance of the cameras at no cost to the districts, he said. The vendor would also be responsible for collection of fines, with the vendor's compensation based on citations issued.
School districts would receive 80 percent of generated revenue, or as much as $116 million under the proposal, said Goforth. Remaining funds—as much as $29 million—would be split between the state Transportation Cabinet and the Kentucky Department of Education, he said.
Rep. Terri Branham Clark, D-Catlettsburg, asked if law enforcement would have a hand in reviewing violations before fines are issued. In the case of civil penalties, Goforth said the vendor would work independently.
"We're making a civil option so a third-party vendor can issue those citations," he said.
Some Kentucky school districts are using stop-arm cameras on their buses to record illegal passers now, he said, although they don't have the option of using a third-party vendor or having the cameras installed and maintained, all at zero cost, said Goforth.
"So it's a very important bill," he said. "It's a win-win for everybody."
HB 34 now goes to the full House for its consideration.