FRANKFORT, KY—A bill that would change Kentucky mail-in absentee ballot procedures and clarify that more than one voting precinct may vote at a single location has passed the state House.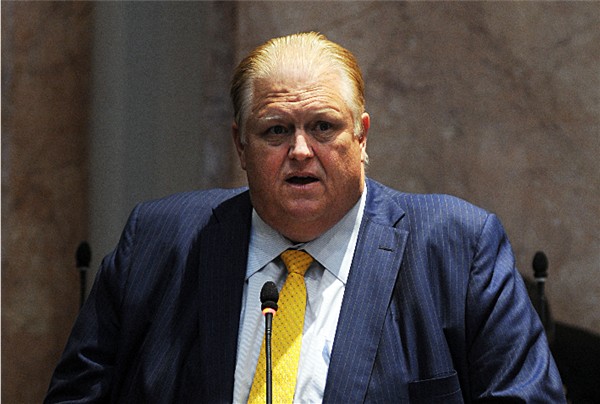 Rep. Kevin Bratcher, R-Louisville, speaking on his proposal found in HB 388
House Bill 388 sponsor and House Elections, Constitutional Amendments and Intergovernmental Affairs Committee Chair Rep. Kevin D. Bratcher, R-Louisville, said the bill is the result of months of work with the Kentucky County Clerks Association and others.
"We'd been working on it all summer, both parties. All the (county) clerks are for this," said Bratcher.
The change in mail-in absentee ballot rules would prohibit those ballots from being mailed to a voter's residence unless the voter is required to work outside of the county throughout the in-person absentee voting process or for other eligible reasons, such as having a disability or being away on military service.
Bratcher said the bill would also require that mail-in absentee ballots be verified the day before an election. He emphasized that the ballots would not be counted the day prior, only verified.
"They will count them on election day," he said.
Using a single voting location for more than one precinct is already part of election procedures in some larger counties, said Bratcher. One voting machine could be used by different precincts, per the bill, if the machine is capable of tabulating separate ballots.
"This happens many times in the larger counties, and some of the other districts would like to do that," said Bratcher.
Rep. Derrick Graham, D-Frankfort, asked if precincts at the same voting location would be able to share election officers under the bill. Bratcher said yes, with State Board of Election approval.
"If two precincts are at the same location and there's a shortage of election officers – with the State Board of Elections' blessing, an election officer can work at both precincts," said Bratcher.
HB 388 would allow registered Independents to serve as election officers, and adjust terms for members on county board of elections, among other provisions.
HB 388 passed the House 84-0 and now goes to the Senate for consideration.
END