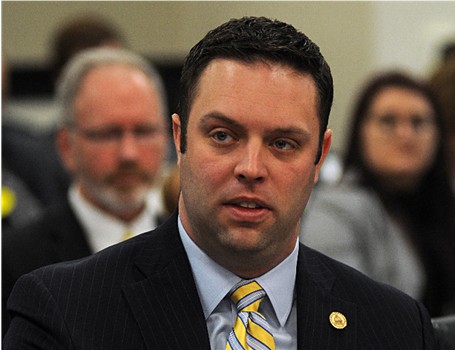 Rep. Michael Meredith, R-Oakland, presenting HB 475 for the committee's approval.
FRANKFORT, KY -- A proposed constitutional amendment that would remove restrictions on ways the General Assembly can allow local governments to levy certain taxes was approved by a legislative committee on Thursday February 27, 2020.
If approved by the full House and Senate, the measure would be decided by voters in a statewide ballot this fall.
House Bill 475 primary cosponsor Rep. Michael Meredith, R-Oakland, said the bill proposes changes to Section 181 of the state Constitution that would clear the way for a new framework for local government taxation. The proposal, which also has the primary sponsorship of House Speaker David Osborne, R-Prospect, advanced from the House Elections, Constitutional Amendments and Intergovernmental Affairs Committee today with bipartisan approval.
The state Constitution currently restricts local governments' ability to levy certain taxes and fees which, Meredith said, making cities, counties and certain other local government entities largely dependent on payroll taxes, property tax, and "local income" taxes, such as the gross receipts tax. The proposed amendment would ease those restrictions and create more flexibility, he said.
"Knowing that we find ourselves being one of the five most dependent states in the nation on productivity-based taxes—those local income taxes—we knew that to have a serious conversation about changing the tax code we had to allow additional forms of flexibility in revenue, and revenue collection," said Meredith.
Should the amendment proposed by HB 475 be approved by the General Assembly and ratified by a majority of voters statewide, it would be up to the General Assembly to create a statutory framework for the creation of new local revenue. Local governments would then pass ordinances "within the boundaries of that framework," said Meredith.
Kentucky League of Cities Executive Director J.D. Chaney spoke in support of the proposed amendment which he said addresses local government tax modernization in a meaningful way.
"This is moving this discussion further along than I think really we ever have," said Chaney.
Speaking against the amendment was Kentucky Retail Federation Chairman and Willis Music CEO Kevin Cranley, who said the proposed change could put the full tax burden on consumers. "They don't deserve this," he told the committee.
But Meredith said the proposed change would instead get rid of an "impediment" that has prohibited the state from having a broader discussion about local taxation for 25 years.
"What we're seeking today is to get rid of the impediment," he said.
HB 475 now goes to the full House for consideration.
END