WASHINGTON, D.C. – U.S. Senate Majority Leader Mitch McConnell (R-KY) welcomed Kentuckians with the Veterans of Foreign Wars (VFW), the oldest war veterans service organization to his office in the U.S. Capitol today. They thanked Senator McConnell for utilizing his role as Senate Majority Leader to be a vigorous advocate for Kentucky's veterans, servicemembers, and military families.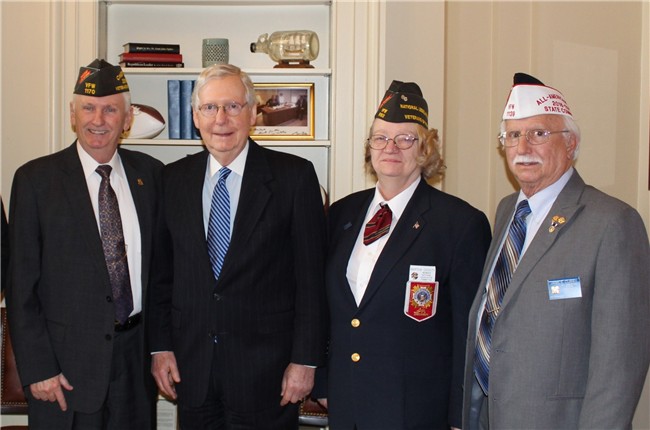 L-R: Carl Kaelin of Leitchfield, Senator McConnell, Martha Lain of Louisville, James Curry of Harlan.
"Honoring the women and men who bravely served our nation in uniform is one of our highest callings, and it's my privilege to deliver for Kentucky's nearly 300,000 veterans," said Senator McConnell. "I'm grateful to work with the members of the VFW to support the organization's extraordinary impact on communities throughout our country. Partnering with President Trump, we have invested record funding into the VA and finally secured the remaining funding for a new, modern hospital in Louisville to serve Kentucky veterans. No government program can completely repay the debt we owe to our veterans, but I'll keep working as Senate Majority Leader to support those who have risked their lives to keep us safe."
"Kentucky's veterans know they have a strong champion in Senator Mitch McConnell. He listens to what we need and works with us to get it done," said Carl Kaelin, a Vietnam Veteran from Leitchfield, Kentucky and former National Chief of Staff of the Veterans of Foreign Wars (VFW). "Senator McConnell's many accomplishments for our veterans—including securing full funding for the new Louisville VA Medical Center and the passage of the VA MISSION Act—keep our nation's commitment to those who selflessly defended our way of life. The VFW presented Senator McConnell with our Commander-in-Chief Gold Medal of Merit award in 2018 in recognition of his unwavering support for veterans, servicemembers and their families. Kentucky is proud to have one of the top congressional leaders fighting for us, and I'm confident we will continue to benefit as a result."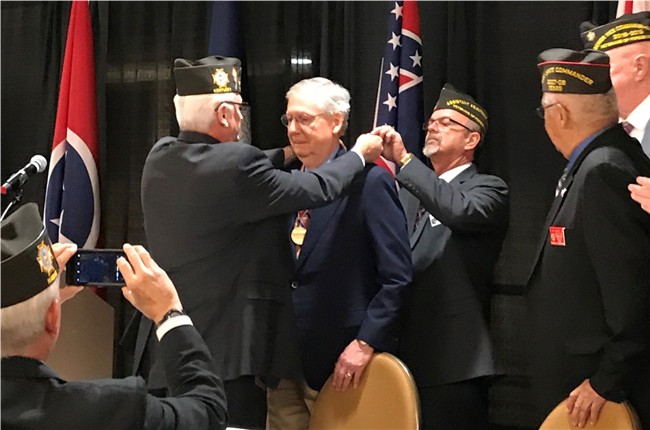 Kaelin bestows the Commander-in-Chief Gold Medal of Merit award upon Senator McConnell during the 2018 VFW Regional Convention in Louisville, Ky.
Senator McConnell has long been a leader in Congress for Kentucky veterans and has been a vigorous advocate for Kentucky's servicemembers and military families. In December 2019, Senator McConnell secured the remaining $410 million needed for construction of the new Robley Rex Veterans Affairs Medical Center (VAMC) in Louisville, Kentucky, in the Fiscal Year 2020 government-funding agreement. Additionally, this legislation provided a well-deserved pay raise for servicemembers -- the largest increase in a decade. The legislation was signed into law by President Donald J. Trump.
###