FRANKFORT, KY – The Kentucky Office of Homeland Security has awarded Leslie County with a $13,036.61 grant to purchase new equipment and services for local mapping data collection. The Leslie County grant application was one of 61 considered for these funds awarded through the State Homeland Security Grant Program.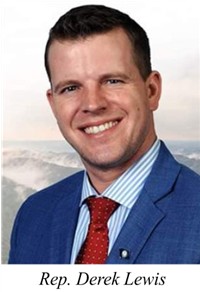 Upgrading the local mapping data is essential to maintaining a community's public safety when responding and locating a 911 medical emergency.
"Our first responders go out in our community every day and bravely serve those in need of emergency care," Rep. Derek Lewis said. "I am glad that this grant will allow them the opportunity to acquire equipment to better serve the public and have the capability to save lives."
The current statute provides $3 million in available funding for the 2020 911 competitive grant cycle. By law, all grant funding is directed to projects that will help Kentucky develop Next Generation 911(NG911) capabilities.
This grant was made possible by the State Homeland Security Grant Program. Funded by the U.S. Department of Homeland Security (DHS), the State Homeland Security Grant Program (SHSGP) provides resources to city and county governments, special taxing districts, and public school districts to purchase first responder equipment, communications equipment, critical infrastructure protection, and cybersecurity protection.
###