'Alongside our fellow Kentuckian, Ambassador Kelly Craft, Jennifer has the experiences and talents to advance our national values on the world stage'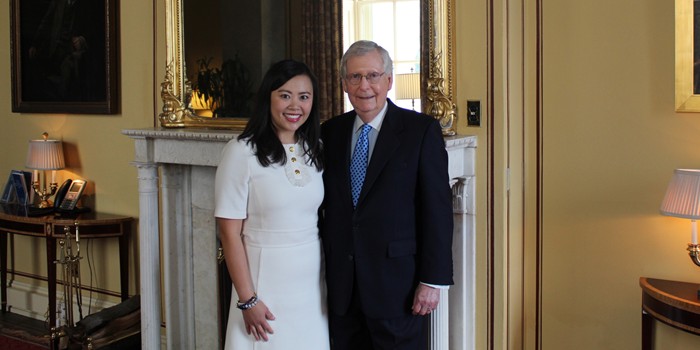 Majority Leader McConnell welcomed Jennifer Yue Barber to his office in the U.S. Capitol in 2019
WASHINGTON, D.C. – U.S. Senate Majority Leader Mitch McConnell (R-KY) submitted the following introduction on Wednesday, August 5, 2020 to the members the U.S. Senate Foreign Relations Committee in support of President Trump's nominee, Jennifer Yue Barber of Louisville, to serve as the Representative of the United States on the Economic and Social Council of the United Nations, with the rank of Ambassador, as well as an Alternate Representative of the U.S. to the Sessions of the General Assembly of the United Nations:
"Thank you for this opportunity to offer my support for Jennifer Yue Barber, of Kentucky, to represent our country at the United Nations Economic and Social Council.
"As nations around the globe prepare to celebrate the UN's 75th anniversary, American leadership is as important as ever. Alongside our fellow Kentuckian, Ambassador Kelly Craft, Jennifer has the experiences and talents to advance our national values on the world stage.
"Jennifer and her family are a wonderful example of the promise of American opportunity. Her parents, Kenneth and Laura, left China as teenagers seeking a better, freer life in America. They found that opportunity in Frankfort, Kentucky.
"Kenneth and Laura poured themselves into a small business. Through long hours and hard days, the Yue family built a new future. At age seven, Jennifer began pitching in and learning the rewards of hard work and never giving up.
"She carried those virtues into every aspect of her life.
"Jennifer went on to earn undergraduate and law degrees from the University of Kentucky.
"Then, she started making a name for herself in the Bluegrass State's legal community. She's won accolades as a 'Rising Star,' a member of a local publication's 'Forty Under 40' list, and an 'Enterprising Woman to Watch.'
"From constitutional tax issues to economic development, Jennifer is regularly called upon for her counsel and expertise. Her extensive writings have helped shape dialogues and build consensus. She's ably served on the boards of a bank, the Kentucky State Fair, and her alma mater.
"While each of those organizations will surely miss her guiding contributions, I commend Jennifer for choosing a new path in public service.
"On the Economic and Social Council and in the General Assembly, Jennifer will help promote opportunity, cooperation, and prosperity throughout the international community.
"She'll work to empower women and girls and other previously underrepresented groups in an effort to advance global stability and peace.
"This Council is also one of the principal UN bodies overseeing the global humanitarian response to the COVID-19 pandemic. Through the historic CARES Act, we provided support for vital international relief. Jennifer can be a strong voice for American leadership in these urgent efforts.
"I'm grateful President Trump selected Jennifer Yue Barber to help tackle these issues and more on behalf of the United States. Through the course of this hearing, I expect you will find a serious and diplomatic nominee who is ready to step into this critical role.
"So thank you again, Chairman Risch and Ranking Member Menendez, for the chance to introduce Jennifer to this Committee. I look forward to confirming another outstanding Kentuckian to serve our country."