Effort Funded Through Generous Partners Including Rick & Mary Beth Griffith and Traditional Bank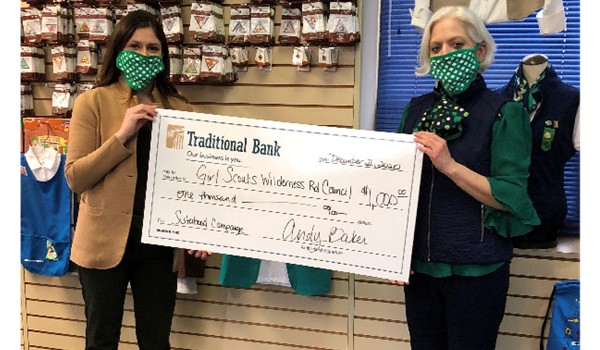 Left to Right: Erin Soard, Traditional Bank Representative; Susan Douglas, GSKWR CEO
LEXINGTON, Ky. – Girl Scouts of Kentucky's Wilderness Road (GSKWR) launched a 'Sisterhood Giving Challenge' on Giving Tuesday with a phenomenal outcome – providing the opportunity for 250 Kentucky girls, who could otherwise not afford to be involved in Girl Scouts, to be part of the Girl Scout Sisterhood.
Rick & Mary Beth Griffith committed to match one hundred Girl Scout memberships; Traditional Bank, with fourteen locations in five Kentucky counties (Bourbon, Clark, Fayette, Franklin and Montgomery) followed suit by contributing the funds for 40 additional local Girl Scout memberships; other community supporters, partners and individuals contributed over 100 more Girl Scout memberships, totaling nearly 250 memberships. "As a Council, we couldn't be more grateful that underserved girls in our local community will have the opportunity to form bonds with other girls, create lasting memories and learn vital life and leadership skills," said Susan Douglas, CEO of Girl Scouts of Kentucky's Wilderness Road. "The Griffiths, Traditional Bank, and so many others, have reminded us that our community truly sees the value in Girl Scouts and the lifelong impact our programming has on Kentucky's future leaders," she continued.
As the preeminent leadership development organization for girls, GSKWR believes that all girls should have access to the experiential learning and leadership development opportunities that Girl Scouts provides. Interested in joining Girl Scouts or donating to offer the Girl Scout experience to a local girl? Visit the GSKWR website to learn more: https://www.gskentucky.org
About Girl Scouts of Kentucky's Wilderness Road
Recognized as the premier leadership opportunity for female ambition in Kentucky, Girl Scouts of Kentucky's Wilderness Road (GSKWR) serves over 8,000 girls and young women in 66 Kentucky counties and 1 Ohio county. With opportunities around the world, GSKWR advocates creativity and free choice, encouraging girls and young women to explore their passions and cultivate change through a focus on life skills, STEM, entrepreneurship and outdoor experiences. Through corporate partnerships in the State of Kentucky, GSKWR is creating a critical career pipeline of intelligent women leaders. To learn more about how Girl Scouts of Kentucky's Wilderness Road is creating experiential and leadership opportunities for growth, please visit www.gskentucky.org.
# # #