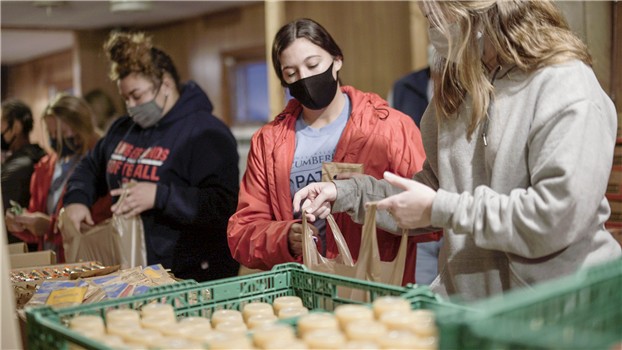 Students at the Corbin Backpack Program
WILLIAMSBURG, KY (January 2021) – University of the Cumberlands honored the legacy of Dr. Martin Luther King Jr. with a campus-wide day of service and volunteer work on Monday, January 18. COVID-19 safety precautions somewhat affected this year's service day, yet Cumberlands students still came together to accomplish a number of projects while respecting CDC guidelines.
More than 100 students participated in the service day. Service projects included helping at Cedaridge Ministries Inc., assisting at the Lane Theater, stuffing backpacks for the Corbin Backpack Program, and removing litter around Cumberland Falls.
Cedaridge Ministries Inc. is a local nonprofit that has partnered with Cumberlands for ministry work and recycling programs for several years. A volunteer opportunity at the recycling center is one Cumberlands students took advantage of during this year's MLK Day of Service.
"Recycling is a way of bringing young people, older people, everybody in and giving them a chance to actually see how it works here at Cedaridge. They get a hands-on approach to it. That's one of the benefits of having it," said Keith Decker, president and CEO of Cedaridge Ministries. "We're very thankful for having so many Cumberlands students come out and volunteer here."
Another volunteer event available to students throughout the school year isthe Corbin Backpack Program. This program gathers every week during the school year to pack lunches for needy children in Knox and Whitley counties. Approximately 900 backpacks were packed during this year's MLK Day of Service compared to the average 300 backpacks schools usually needed pre-COVID.
"Working the backpack program is one of the ways to help the needy children of this county and others surrounding it," Cumberlands student Candy McClure said. "By coming together as a community, we were able to help one more child get what they needed. To come together and have fun with a program while still helping others is truly something amazing."
Lane Theater is a local theater Cumberlands students also volunteered at during the MLK Day of Service. Students assisted with basic renovations and helped prepare programming for Black History Month.
"We appreciate everything Cumberlands does to support the Lane Theater. The students'energy for the project is always encouraging to see. Every time we have students, we are one step closer to our goal of renovating the theater," said Jacob Ratliff, treasurer of the Williamsburg Action Team (the group that owns the theater) and Cumberlands' disabilities services coordinator.
Martin Luther King Jr. Day was just the beginning of the Season of Service for Cumberlands students. On average, 1,230 students will have volunteered within the 15–week season. Students have a total of 98 volunteer opportunities available to them during Season of Service.
Community groups and nonprofits interested in engaging Cumberlands student volunteers in their service needs can email requests at .