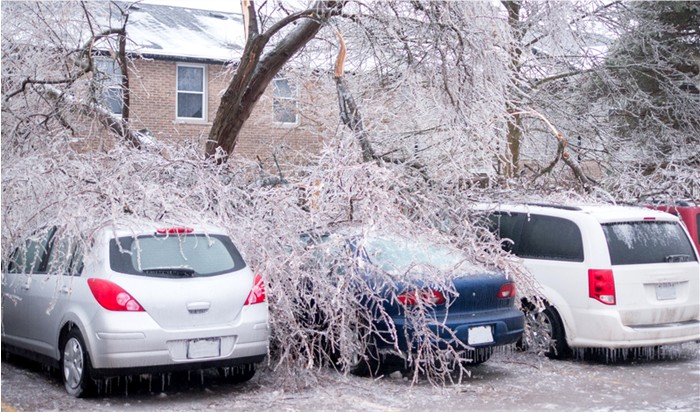 Stock photo of trees which have fallen onto cars in a parking lot due to the extreme weight of the ice from an ice storm.
2:29 PM EST Tuesday, February 9, 2021 - Counties: Rockcastle, Jackson, Pulaski, Laurel, Floyd, Breathitt, Knott, Owsley, Perry, Clay, Leslie, Martin and Pike
Including the cities of Brodhead, Mount Vernon, McKee, Annville, Burnside, Somerset, London, Prestonsburg, Wheelwright, Jackson, Hindman, Pippa Passes, Booneville, Hazard, Manchester, Hyden, Inez, Coal Run, Elkhorn City, Pikeville, and South Williamson
ICE STORM WARNING IN EFFECT FROM 1:00 AM THURSDAY TO 7:00 AM EST FRIDAY...
* WHAT...Significant icing expected. Total ice accumulations of up to one half of an inch. Locally higher amounts of ice accumulation possible.
* WHERE...Portions of Northeast, South Central and Southeast Kentucky.
* WHEN...From 1:00 AM Thursday to 7:00 AM EST Friday.
* IMPACTS...Power outages and tree damage are likely due to the ice. Travel could be nearly impossible. The hazardous conditions could impact the Thursday morning commute.
PRECAUTIONARY/PREPAREDNESS ACTIONS...
Travel is strongly discouraged.
If you must travel, keep an extra flashlight, food and water in your vehicle in case of an emergency.
Prepare for possible power outages.
SOURCE: Forecast.Weather.gov