'This isn't about principle. It's just an attempt to use a temporary majority to pull off a permanent partisan power grab. Democratic leaders have razor-thin majorities in both chambers; they're afraid they are going to lose them; and so they've decided their top priority is a Washington rewrite of election rules.'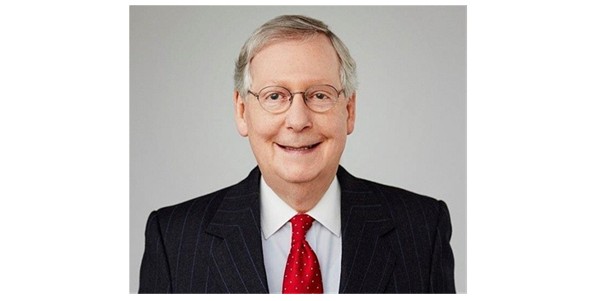 U.S. Senate Republican Leader Mitch McConnell
WASHINGTON, D.C. – U.S. Senate Republican Leader Mitch McConnell (R-KY) delivered the following remarks today on the Senate floor regarding Democrats overturning elections:
"I remember distant days, long ago, way back through the mists of time, when Democrats said it would be wrong for Washington D.C. to overturn a state-certified election result.
"No, wait a minute. That was two months ago.
"Two months ago, every Democrat, cable news channel, and liberal newspaper was melting down over some Republicans' efforts to dispute state-certified election results here in Congress.
"I vocally opposed those efforts myself.
"But right now, as we speak, Speaker Pelosi and Washington Democrats are literally trying to overturn a state-certified election result here in Congress.
"The voters of Iowa's 2nd District spoke in November. Their votes were counted. Then recounted. The outcome was certified. There was the opportunity to present complaints in court, but the defeated Democrat passed it up. The process played out in the way that every liberal in America spent November, December, and January insisting was beyond question.
"But there's a catch. This time, the Republican won and the Democrat lost. So Speaker Pelosi and Washington Democrats have set out trying to overturn the result from here in Congress.
"Congresswoman Miller-Meeks has been sworn in. She's here. She's working. But Democratic leadership is trying to use brute political power to kick her out and replace this Congresswoman with the Democrat whom she defeated.
"You don't often see hypocrisy this blatant, this shameless, so quickly.
"Naturally, now that Democrats stand to benefit, the concept of Washington D.C. overturning a certified election has gone from a massive outrage to a minor afterthought for much of the national media.
"This is happening at the same time that House and Senate Democrats are pitching a massive takeover of all 50 states' election laws.
"The same people who are trying to overturn this certified election result want to ram through a bill that would let them control the democratic processes that will determine whether they keep their jobs and their majority in two years' time.
"This isn't about principle. It's just an attempt to use a temporary majority to pull off a permanent partisan power grab.
"Democratic leaders have razor-thin majorities in both chambers; they're afraid they are going to lose them; and so they've decided their top priority is a Washington rewrite of election rules.
"The 2nd district in Iowa is just the appetizer. Soon Democrats want to come for the main course.
"Every congressional district. All 50 states. Every election for every federal office would have to be run the way the liberal Washington lawyers who donate to Democrats want.
"Voter I.D.? Their bill bans it, unless states implement a huge loophole that makes it meaningless.
"But ballot harvesting, where paid political operatives can hand in stacks of absentee ballots with other people's names on them? That won't just be allowed; it will be mandatory.
"Those are just two examples from an endless list. Outside special interests are putting tens of millions of dollars behind this.
"In fact, some Democrats are so desperate to rewrite the rules of our democracy that many of them want to break the Senate's rules in order to do it.
"People will argue that it is worth destroying the legislative filibuster over H.R. 1 because the rules that govern our democracy are so important.
"Of course, that's backwards. The rules that govern our democracy are indeed uniquely sensitive and important. That's why this issue, of all issues, must be addressed in a fair and bipartisan way.
"This isn't a uniquely justifiable place to shred the Senate's rules and ram through something partisan. It is a uniquely unjustifiable place to do that.
"I worked with Chris Dodd to spearhead the Help America Vote Act in 2002. A big, landmark elections bill that made it easier to vote and harder to cheat.
"It passed the Senate 92 to 2. Ninety-two to two. That is the kind of consensus you build if you want to tune up our democracy. That is the kind of broad, bipartisan support that exists for making it easier to vote but harder to cheat.
"A far cry from overturning a result from the last election and dictating the terms of the next one."
###