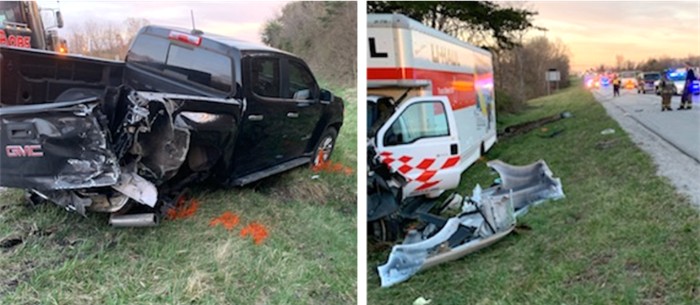 LONDON, KY - Laurel County Sheriff John Root is reporting that: Laurel Sheriff's Deputy Travis Napier along with K-9/shift Sgt. Gary Mehler and Deputy Dustin Saylor are investigating a three vehicle traffic fatality which resulted in the death of one of the drivers occurring on I–75 in the southbound lanes approximately 4 miles South of London on Friday evening March 19, 2021 at approximately 6:30 PM.
Sheriff's investigators report that apparently traffic was backed up and slowing or stopping due to the construction area in southern Laurel County.
A black GMC Canyon pickup truck which was slowing or stopping for the slowing or stopped traffic for the construction ahead was apparently struck in the rear by a blue colored Mazda car.
The pickup truck was able to pull off the roadway however the Mazda car was disabled from the crash and was stopped in the middle lane of I–75 southbound.
Witnesses reported that cars were swerving around the disabled vehicle when a U-Haul box truck was unable to stop and struck the Mazda car in the rear causing severe damage and causing both vehicles to travel off the roadway onto the shoulder.
The driver and only occupant of the black GMC Canyon pickup truck was identified as Aaron Bishop age 24 of Cartersville Georgia. – No injuries reported.
UPDATE: The driver and only occupant of the Mazda car was a Laurel County resident identified as Emily Evans age 22 of London, who was transported to a local hospital where she was pronounced deceased a short time later.
The driver and only occupant of the U-Haul box truck was identified as Anna Lazzaro age 25 of Angwin, California – no injuries reported.
Assisting the Sheriff's Office at the scene were: Ambulance Inc. of Laurel County, Laurel County Volunteer Fire Department, London Laurel Rescue Squad. Also assisting on the investigation was the Laurel County Coroner's Office.